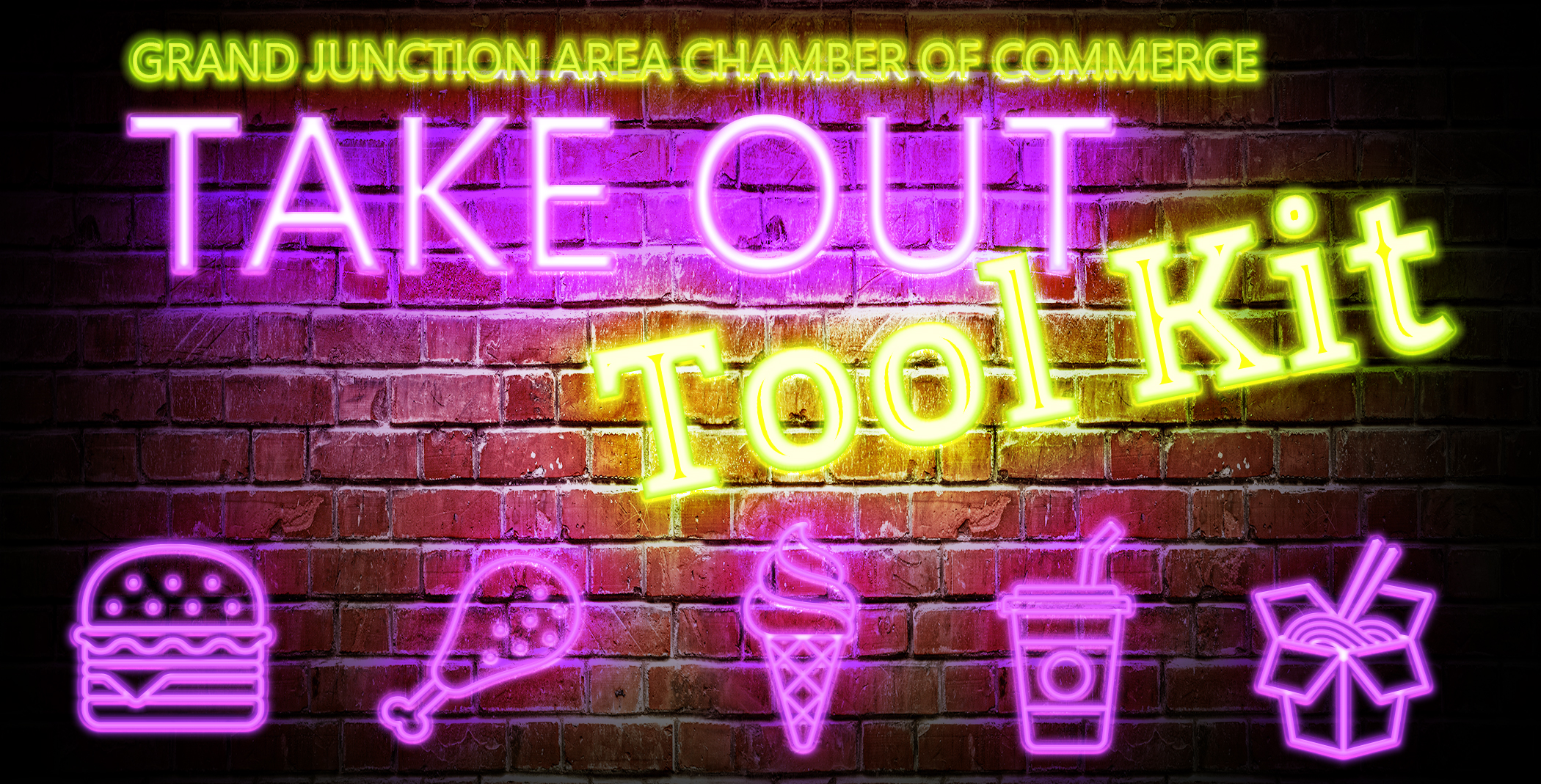 ---
Together, we must stay committed to supporting our local businesses!
Below is a list of restaurants, bars, and coffee shops we have compiled to keep you connected with any business who is continuing to offer take out, curbside, and/or delivery services. Listings have also been updated to mention if they are offering limited dine-in based on the current Safer-At-Home Guidelines.
For specifics on exact services being offered, hours of operation, menus, and more, please visit the business website for those details. 
We will work hard to keep things as up to date as possible. If you are aware of a change that needs to be made, please contact us.
---
See a business we missed?
Let us know and we will track down the information or feel free to send information to candace@gjchamber.org.
---
13 Brix Cider Bistro
Take Out, Curbside, Dine In
www.13brixciderbistro.com
357 Bar & Grill
Take Out, Dine In
www.357barandgrill.com
5 M Spuds
Take Out
https://www.facebook.com/5mspuds/
7th Street Deli
Take Out, Curbside, Delivery
www.7thstreetdeligj.com
A Taste of Heaven
Delivery
http://cateringatasteofheaven.com/
Agavero's Mexican
Take Out, Curbside, Dine In
www.agaverosrestaurant.com
Alpine Oven Pies
Take Out, Curbside, Dine In
https://www.gofruita.com/thingstodo/alpine-oven-pie-co
Aspen St. Coffee
Take Out, Dine In
https://www.facebook.com/AspenStreetCoffee/
Bakers Boutique
Take Out, Curbside, Delivery
https://www.bakersboutiquegj.com/
Bamboo City
Take Out, Delivery
Be Sweet Cafe & Bakeshop
Take Out, Curbside, Delivery
www.besweetbakeshop.com
Berna B's
Take Out, Curbside, Delivery, Dine In 
www.bernabs.com
Best Slope Coffee Co
Take Out, , Dine In
https://bestslopecoffeeco.com/
Big Mike's Pork N Wings
Take Out, Curbside
www.facebook.com/bigmikesporknwings
Bin 707
Take Out, Curbside, Delivery
http://www.bin707.com/
Bin Burger
Take Out, Curbside, Delivery
www.bin707.com
Blue Moon Bar & Grill
Take Out, , Dine In
www.bluemoongj.com
Boston's Restaurant
Take Out, Curbside, Delivery, Dine In
www.bostons.com
Bravo's Pizza
Curbside, Delivery
Buttered Biscuit
Take Out, Curbside
https://butteredbiscuitgj.com/
Cafe Rio
Take Out, Curbside, Delivery
https://www.caferio.com
Cafe Sol
Curbside, Curbside, Delivery
http://www.cafesolgj.com/
Camillas Kaffe
Take Out, Curbside
Cattlemans Bar & Grill
Take Out, Dine In
https://cattlemens-bar-grill.business.site/
Chic-Fil-A
Take Out, Curbside
https://www.chick-fil-a.com
Chilis Grill and Bar
Take Out, Curbside, Delivery, Dine In
www.chilis.com
Chipotle
Take Out
www.chipotle.com
Citrolas
Take Out, Curbside
www.citrolasitaliangrill.com
Costa Vida
Take Out, Curbside
locations.costavida.com
Coldstone Creamery
Take Out, Curbside, Delivery 
https://orders.ordercoldstone.com/
Dairy Queen
Take Out
https://www.dairyqueen.com
Denny's (Clifton)
Take Out. Curbside, Delivery, Dine In
https://locations.dennys.com/CO/CLIFTON
Domino's
Take Out, Curbside, Delivery 
http://www.dominos.com
Dos Hombres
Take Out, Curbside, Dine In
https://go2dos.com
Dragon Treasure (Fruita)
Take Out, Curbside, Delivery, Dine In 
https://www.facebook.com/dragontreasure/
Dream Cafe
Take Out, Curbside, Delivery, Dine In
www.dreamcafegj.com
EC's Asian Station
Take Out, Curbside, Delivery
https://www.doordash.com/
Einstein Brothers Bagels
Take Out, Curbside, Delivery, Dine In
https://www.einsteinbros.com/
El Tapatio
Take Out, Curbside, Dine In
Enstrom Candies
Take Out, Curbside
https://www.enstrom.com
Enzo's Restaurante Italiano
Take Out, Curbside, Delivery, Dine In
http://www.my-enzos.com/menu.html
Famous Dave's BBQ
Take Out, Curbside, Delivery
www.famousdaves.com
Fiesta Guadalajara
Take Out, Curbside, Delivery, Dine In
www.fiestaguadalajaraco.com
Fisher's Market
Take Out, Curbside, Delivery
www.shopfishersmarket.com
Gelato Junction
Take Out, Curbside, Delivery, Dine In
www.gelatojunction.com
Ginger Restaurant
Take Out
https://www.grubgofersonline.com
Golden Corral
Take Out, Curbside, Delivery, Dine In
www.goldencorral.com
Golosas
Take Out, Curbside, Delivery, Dine In
www.golosasmexicansandwiches.com
Handlebar Tap House
Take Out, Curbside, Delivery, Dine In
https://www.handlebargj.com/
Have Cooker, Will Travel
Take Out
www.Havecooker.com
Honey Baked Ham
Take Out, Curbside, Dine In
www.honeybaked.com
Hot Tomato
Take Out
https://www.hottomatopizza.com/
Jimmy Johns
Take Out, Curbside, Delivery
http://www.jimmyjohns.com
Junction Square Pizza
Take Out, Curbside, Delivery, Dine In
www.jctsquare.com
Los Alazanez
Take Out, Curbside
https://www.facebook.com/Los-Alazanes-Mexican-Food-1174592559342073/
Main St. Cafe
Take Out, Delivery
http://www.mainstreetcafegj.com/
Main Street Bagels
Take Out, Curbside, Delivery, Dine In
https://gjmainstreetbagels.com/
Mi Ranchito
Take Out, Curbside
https://www.miranchitoutah.com/menus/
Mountain Air Roasters
Take Out, Curbside, Delivery
MountainAirRoasters.com
Munchies Pizza & Deli
Take Out, Curbside, Delivery, Dine In
www.munchiesfruita.com
MX Tapas Bar
Take Out, Curbside, Delivery
www.mxrestaurante.com
My Favorite Muffin
Take Out, Dine In
www.myfavoritemuffin.com
No Coast Sushi
Take Out, Curbside, Delivery, Dine In
www.nocoastsushi.com
Noodles & Company
Take Out, Delivery
https://noodles.com
Ocotillo Restaurant at Redlands Mesa 
Take Out, Curbside, Dine In
https://redlandsmesa.com/dining/
Old Chicago
Take Out, Curbside, Delivery
https://oldchicago.com
Olive Garden
Take Out, Curbside, Delivery, Dine In
www.olivegarden.com
Orchard Mesa Lanes Snack Bar
Take Out, Dine In
https://orchardmesalanes.com/
Outback Steakhouse
Take Out, Curbside, Delivery
https://www.outback.com/locations/co/grand-junction
Pablo's Pizza
Take Out, Delivery, Dine In
https://www.pablospizza.com/
Peche
Take Out, Curbside
https://pecherestaurantcolorado.com/
Pizza Amore
Take Out, Curbside, Delivery
www.pizzamoregj.com
Practical Smokers BBQ
Take Out, Dine In
https://practical-smokers.com/
Pufferbelly Restaurant
Curbside, Delivery, Dine In
https://www.starvin-arvins.com/
Qdoba
Take Out, Dine In
www.Qdoba.com
Rib City Grill (All Locations)
Take Out, Curbside, Delivery
www.ribcity.com
Ristorante Pantuso
Take Out, Curbside,
https://mypantusos.com/
Rockslide Brew Pub
Take Out, Curbside, Delivery, Dine In
www.Rockslidebrewpub.com
Roasted Espresso & Subs
Take Out, Curbside, Delivery
www.roastedespresso.com
Roosters
Take Out, Dine In
https://flynroosters.com/
Sang Garden
Take Out, Delivery
www.sanggardenchinese.com
Scallywag's
Take Out, Curbside, Delivery, Dine In 
https://www.facebook.com/scallywagsgj/
Smokin' Oak Wood Fired Pizza
Take Out, Curbside,
https://smokinoakpizza.hungerrush.com/
Snooks Bottom BBQ
Take Out, , Delivery
www.snooksbottombarbeque.com
Strayhorn Grill
Take Out, Curbside, Dine In
www.strayhorngrill.com
Suehiro Japanese Restaurant
Take Out, Curbside, Delivery
www.suehirosushigrandjunction.com
Taco Party
Take Out, Curbside, Delivery
https://www.tacopartygj.com/
Tequilas Family Mexican Restaurant
Take Out, Curbside, Dine In
www.tequilasgrandjunction.net
Texas Roadhouse
Take Out, Dine In
www.texasroadhouse.com
Thai Chili & Pho
Take Out, Curbside, Delivery
www.us.chinesemenu.com
Thai Number 9
Take Out, Curbside
Thai Smile
Take Out
http://www.thaismilegrandjunction.com/
The Ale House
Take Out, Curbside, Dine In
www.alehousegj.com
The Feisty Pint
Take Out, Delivery
https://feistypint.com/
The Garlic Knot
Take Out, Curbside, Delivery, Dine In
https://garlicknotpizza.com/
The Hog and the Hen
Take Out, Delivery
https://thehenthehog.com/
The Winery
Take Out, Curbside, Dine In
www.winery-restaurant.com
Village Inn
Curbside, Dine In
www.Villageinn.com
U Top It Frozen Yogurt
Take Out, Curbside 
https://www.facebook.com/utopitfrozenyogurt/
Warehouse 2565
Take Out, Curbside, Delivery, Dine In
Www.warehouse2565.com
Wienerschnitzel (Horizon Drive, Fruitvale, First & Grand)
Take Out
Zoup!
Take Out, Curbside, Delivery, Dine In
www.Zoup.com
---
*list as of 8:50 am March 20, 2020