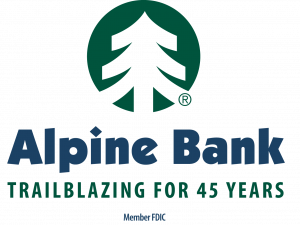 Banking
Locally owned and operated, Alpine Bank has been a part of the Western Slope of Colorado for 45 years. With 38 convenient locations, we serve over 130,000 customers with retail, business, mortgage and electronic banking services.
Many of our employees and managers have been with Alpine Bank for 10 years or longer. This dedication allows us to build long-term customer relationship—in fact, many of our original Board of Directors still serve, including Chairman Bob Young.
Because we are not a national banking chain, our size and streamlined organizational structure provide us the ability to make local decisions in a timely manner. With online banking, bill pay, mobile banking with check depositing, credit cards, a network of over 43,000 ATMs nationwide, cash management, health savings accounts, remote deposit capture, and consumer and business loans, Alpine Bank understands our customers desire a diverse product selection that meets the demands of their busy lifestyle.
Founded on the principle of giving back to our communities, we strongly support nonprofits across western Colorado. Community events, the arts, animal shelters, sports, recreation, and particularly children and education have been the focus of Alpine's philanthropy. Giving back is a part of our culture. Annually, each employee is given 24 hours of paid volunteer time; many provide their time and talent beyond this.
Since 2005, Alpine Bank has taken a charge to improve its environmental practices. Today, the bank is ISO 14001 certified and continues to implement an Environmental Management System, which regularly earns our company recognition for environmental leadership in Colorado.
Alpine Bank Wealth Management
Alpine Bank Wealth Management focuses on comprehensive wealth and investment management for individuals, corporations, and organizations. At Alpine Bank Wealth Management, you not only benefit from sound investment expertise, you work with our diverse team of investment professionals who are held to the highest standard of fiduciary responsibility. In many relationships, we act as corporate trustee and those responsibilities bring with them the highest level of oversight. This way of doing business applies to all of our client relationships, from the most formal estate management to the simplicity of record keeping.  This standard by which we manage your affairs is one of the most important strengths we offer you. Contact our investment team today at 877-808- 7878 to discuss your wealth management goals.
Mortgages
Whether you're buying a new home or building from the ground up, when you choose Alpine Bank you can be certain that you're getting the expertise you deserve. We know buying a home can sometimes be intimidating and stressful, especially for first-time homebuyers. Our lenders will discuss the many loan programs and down payment options available to help tailor a loan to meet your exact needs. Contact Cassie Tufly at 254-2717 or Patti Chamberlain at 254-2042.
---

ANB Bank – In a world of impersonal big banks and faceless service, ANB is a bank like no other. ANB Bank is a large, independently owned bank with over 33 locations throughout Colorado, Wyoming and Kansas, with four convenient locations in the Grand Valley. The bank is a member of the Sturm Financial Group which maintains financial strength embodied in $2.3 billion in assets. The banking centers proudly deliver personalized, responsive service to their customers and offer a full line of financial services for personal and business needs, online and mobile banking, cash management, and loans for commercial, small business, and consumer needs. ANB Bank is a true community bank, with an unwavering commitment to excellence and to helping each of its communities prosper through investment, sponsorship, philanthropy, and employee volunteerism.
ANB BANK LOCATIONS:
6th & Rood • 12th & Patterson • 24 Road & Patterson • Clifton (IN CORONADO PLAZA)
---

Anthem Blue Cross and Blue Shield is committed to being your trusted health care partner. We have been working in Colorado since 1938, serve more than 1 million members throughout the state, and employ more than 2,000 associates in Colorado communities. With local service and the efficiency of the Blue Cross and Blue Shield brand, we have a first-hand understanding of your health care needs and concerns, and we deliver real value – now and for the long term.
You can count on us for innovative technologies such as LiveHealth Online, which offers members access to a board-certified doctor online anytime from a smartphone, tablet, or computer with a webcam. LiveHealth Online also offers convenient online face-to-face visits with a licensed psychologist or therapist.
Our health plan companies deliver quality products and services that give our members access to the care they need. With more than 73 million people served by our affiliated companies nationwide, including approximately 40 million within our family of health plans, Anthem is one of the nation's leading health benefits companies.
We offer a variety of health plans and network options for large and small business as well as for individuals. For more information, visit www.anthem.com.
---

Bank of Colorado – While there are many banks in Colorado, there's only one Bank of Colorado. Our deep community roots and our great people give us the ability to better understand our customers. So while any bank can offer online banking, only Bank of Colorado can ask how online banking can help our customers make the most of all the opportunities Colorado has to offer. And while anyone can offer business loans, Bank of Colorado understands the different needs business owners might have. Bank of Colorado is large enough to take care of all your financial needs but small enough to care about great customer service.
We have been helping businesses, farms and families grow for four generations. By staying true to our values and making customer service a priority, we continue to be here day after day, year after year, to bring you the best banking experience possible. Our bank is committed to our community by offering excellent service, community sponsorships, and employee volunteerism. We are proud to call ourselves the Bank of Colorado – There's Only One.
Powerful resources – reliability – friendly. Bank of Colorado is a hometown bank that is big enough to have all the tools, but small enough to make a personal difference.
---

"Ironically, common sense has never been all that common. If it were, banks would only sell you what you need. Everything would be fair, without all of the fine print. And, when your banker looked at you, they wouldn't just see a number, they'd see a dad, or a mom, or a graduate, or a business owner. That's why at Community Banks of Colorado we understand the complexities of people's lives and offer simple solutions.
Common sense is about more than banking. It's about putting interaction before transaction. Being friendly and staying sincere isn't just how we do business, it's who we are. It's part of our Common Sense Philosophy and keeps us connected to our community – big or small – on a personal level. That's why at Community Banks of Colorado we understand the complexities of people's lives and offer simple solutions. There are many banks in Colorado, but none can deliver throughout the state like we can. Our focus is providing friendly and personalized service you would expect from your community bank.
If this is what you believe in, then you're definitely right for us. And we might be the right bank for you.
To connect with a Community Banks of Colorado banker, give us a call at 970.263.8800. To find the nearest banking center or ATM, visit us at cobnks.com/locations."
---

Community Hospital in Grand Junction, Colorado, is a full-service, acute-care hospital. As part of the Colorado West Healthcare System, we are now a Level III Trauma Center that offers full outpatient diagnostic services and inpatient care for the Western Slope region of Colorado and eastern Utah. Community Hospital brings together expert staff and world-class technology in a healing, family-centered environment.
Community Hospital provides a full range of medical services, including inpatient and outpatient surgery, comprehensive medical and radiation oncology treatment, in partnership with University of Utah Health and Huntsman Cancer Institute, labor and delivery services for both low and high-risk births, emergency care and much more. We have comprehensive diagnostic capabilities: state-of-the-art ultrasound, CT, digital mammography and cardiac testing.
We pride ourselves on delivering personalized care to our patients, and in working closely with physicians and other providers in treating the whole person. This approach has resonated with our patients, and we are growing to meet the community's demand.
Volumes have increased over 40% since opening the new hospital in March 2016 and inpatient market share has increased to 20% in the last two years. Community Hospital will continue to champion accessible, high quality and cost-effective care for patients in the Grand Valley.
We invite you to Discover the COMMUNITY Difference!
Visit www.YourCommunityHospital.com.
---
Dalby, Wendland & Co., P.C., (DWC), provides premier financial-asset assessment, advice, and strategies for minimizing your tax exposure and helping you keep more of your own money.
With six offices, Dalby Wendland is the largest public accounting, audit, and business advisory firm headquartered in western Colorado. We serve a broad range of individual, business, government, nonprofit, and other clients throughout the region, state, nation, and in other countries.
Services we provide include: tax preparation/filing and planning (including multi-state); accounting; audit and assurance; bookkeeping and payroll; business owner succession planning; business valuation; CFO outsource and consulting; cost segregation studies; employment benefit plan audits; estate, trust, and gift tax planning; forensic accounting; fraud investigation; litigation support services, receivership; risk management; and much more.
Since our beginning in 1948, we have built extensive, long-standing, strong and trusted relationships with our clients. Our professional team members dedicate their skill, passion for people, and values of trust, respect, and responsibility to provide clients with proactive and innovative, personally-tailored solutions. We also utilize the latest technology to ensure confidentiality, efficiency, and the highest integrity of technical expertise available.
In today's business environment, it is critical to have a CPA on your team who understands the important implications of new legislation and tax laws that directly affect business and personal finances.
For free tax tips, or to learn more about how our professionals can assist you or your business, visit us online at DalbyCPA.com
---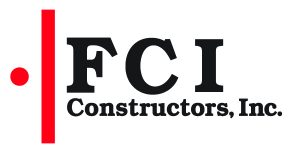 970-434-9093
Construction Companies
General Contractors
Construction Management/ Development
FCI has grown from its founding in Grand Junction, Colorado in 1978 to a regional leader in commercial construction with offices in Longmont, Durango, Phoenix (Arizona), Cheyenne (Wyoming), Williston (North Dakota) and Aztec (New Mexico). Operating from six smaller offices across the region rather than traveling to building sites from a centralized hub means FCI personnel live and work in their home communities.
Recognized as one of Engineering News-Record's Top 400 Contractors since 1998, FCI has been at the forefront of the industry in customer service, safety, technology, and sustainable building.
An employee-owned company, FCI's 295 personnel are stockholders with a vested interest in the success of each and every client project; they work hard to provide the best value and service the industry has to offer. Philanthropic support and community engagement are fundamental to FCI's corporate culture. FCI understands that the core values of any business are a direct reflection of its people. Driven by strong values of trust, hard work, honesty, and professionalism, FCI employee owners, when not building client projects, can be found coaching little league, serving in leadership positions on non-profit boards of directors, fundraising for special projects, participating in service clubs, and reading with elementary school students in communities across the region.
---

970-244-1501
250 N 5th Street, Grand Junction, CO
Government
The City of Grand Junction is a full-service municipal government organization providing a broad range of services for the citizens of Grand Junction. The organization, which employs over 600 full-time employees, is comprised of six departments: Public Works; Police; Fire; Parks and Recreation; Convention and Visitor Services; and Administration. Services provided by the City of Grand Junction are primarily funded by sales and use tax revenues, fees, property taxes, and grants.
Grand Junction was founded in 1882. In 1921, the citizens of Grand Junction voted to employ the Council-Manager form of government, which became popular in the early part of the 20th Century. This system combines the political leadership of elected officials with the managerial expertise of an appointed, professionally trained, local government manager. The members of the City Council are elected by the citizens of Grand Junction to make policy decisions and laws, similar to a board of directors in a private company. The City Council members select a Mayor from amongst themselves each year in May.
---

970-244-7760 

2775 Crossroads Blvd., Grand Junction, CO

Health Care Plans
Insurance
Rocky Mountain Health Plans.
We're Colorado, too.
Mountain Health Plans (RMHP) began in 1974 by physicians and community leaders right here in Grand Junction. Founded on the fundamental idea that Coloradans deserve access to high-quality health care, RMHP remains true to this mission today by continually striving to do the right thing for our Members, partners, and communities. We demonstrate this commitment by working in collaboration with providers to manage health care costs and maximize quality.
In 2017, RMHP became part of the United HealthCare family of plans. We're proud to offer health insurance coverage to individuals of all ages and businesses of all sizes, serving every market – employers, individuals, Medicare, Medicaid, and Child Health Plan Plus. The health of our members is our priority, so RMHP integrates preventative care, chronic illness programs and acute care medical management into an approach that promotes overall wellness – not just payment for illness. We also offer one of the largest provider networks in the state, allowing Members to seek the care that is right for them, from the provider that is right for them.
We have seen many changes over the last 40+ years, but RMHP prides ourselves on our ability to adapt. By putting our Members first and working toward the good health of the communities where we live, work, and play, RMHP is able to uphold the standards our fellow Coloradans expect. Whether it's online tools to help Members take control of their health or a conversation with a local, Grand Junction-based representative, RMHP provides the services our Members want and deserve.
RMHP puts our Members and partners at the center of everything we do. After all: We're Colorado, too.
---
970-244-2273
2635 N 7th Street, Grand Junction, CO
Health and Wellness
Hospitals
Healthcare should empower you to be your personal best.
Whether you are ill, injured or working to maintain good health, having the right support is invaluable. For over a century, St. Mary's Medical Center | SCL Health has been the region's most reliable source for information and care. From medical and surgical services to online programs and libraries, to support groups and seminars, we help empowered you to manage your health and wellbeing, and that of those you care for.
Since the Sisters of Charity of Leavenworth opened St. Mary's in 1896, we have maintained an unwavering focus on fostering health and healing. As part of our community commitment and patient-first approach to excellence, we are continuously finding new ways to take personalized care to the next level.
Consistently top-rated in Patient Safety and care.
The region's highest-level Trauma Center and Emergency Department with specialized care for critically ill or injured patients, including CareFlight air ambulance services to remote locations.
The area's most comprehensive Cancer Center offering advanced diagnostics and treatment services in a peaceful, optimistic environment.
The region's only Stroke Center earning the American Heart Association's Gold-Stroke Plus award.
Modern treatments and healing traditions offered through our Integrative Health and Healing Center.
Heart and Vascular Care in the most advanced surgical facility in the area.
Telemedicine services including our pediatric collaboration with Children's Hospital to help keep people close to home and close to world-class care.
Orthopedic and rehabilitation services to keep you active and pain-free in our beautiful Colorado playground.
One of Colorado's few Baby Friendly birthing centers, as recognized by the World Health Organization and UNICEF.
The region's most advanced Women and Children's services including high-risk prenatal care and Neonatal Intensive Care (NICU) services.
When you choose St. Mary's Medical Center, you aren't limited to the doctors and nurses at our main location. You gain access to SCL Health's coordinated, region-wide network of hospitals, clinics, general physicians, specialists, home healthcare, hospice, mental healthcare and safety net services. Learn more at StMarygj.org.
---
970-243-2412
Banks & Lending Associations
Investments & Investment
Mortgages & Contracts
U.S. Bank's heritage dates back to 1887 through Grand Valley National Bank, First National Bank in 1933, Central Bank of Grand Junction in 1987 and Colorado National Bank in 1993.
U.S. Bank has 22 branches and 31 ATMs in Western Colorado and its customers can access their accounts 24 hours a day via mobile banking, internet or telephone. The full-service branches are located at 422 White Ave., 2448 F Road and 569 32nd Road in Grand Junction and 412 Kokopelli Blvd. in Fruita. They are led by regional president Bill Burns, market president Randall Cupp and district manager Crystal Bell. "U.S. Bank is proud to be part of the Grand Junction community," said Cupp. "In addition to serving the financial needs of our retail, large and middle-market commercial, small business, private banking and trust clients – we are committed to our community. We give back not only through our donations and sponsorships but also with our time. At U.S. Bank, every employee is given up to 16 hours of paid time off annually to volunteer locally. We take great pride in living and working in the Grand Junction community."
U.S. Bank provides a diverse mix of products designed to help virtually anyone or any business achieve their financial goals. The bank also provides many types of mortgage loans and its loan officers work with the individual customer to find the right loan program, whether it is for a first-time homebuyer or someone who is refinancing a home they have owned for many years.
U.S. Bank serves businesses of any size, from an individual who is taking the first steps to start a small business, to a large company with a long history. The company offers a complete set of traditional and online services that can help any business stay ahead, including real-time cash flow management, working capital financing, payments options, trust services and equipment leasing.
And of course, U.S. Bank provides traditional deposit and loan products to businesses as well. U.S. Bank looks forward to the opportunity to meet you and help you achieve your financial goals.
Credit products are subject to normal credit approval and program guidelines. Some restrictions and fees may apply. See your banker for details. Deposit products offered by U.S. Bank National Association. Equal Housing Lender. Member FDIC.
---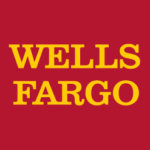 970-242-8822
Banks & Lending
Since opening its doors in 1852, Wells Fargo has been dedicated to helping its customers – individuals and businesses – succeed financially by providing a full range of financial products, services and advice. Led locally by District Manager Jay Bugarin, Wells Fargo's 142 team members serve customers through five branches in Grand Junction and Clifton.
Equally important is Wells Fargo's commitment to do its part to maintain the Grand Junction area as a dynamic, vibrant place to live, work and do business. Through many small acts of giving and volunteering, the local Wells Fargo team is working to make a big difference. Some of the local organizations Wells Fargo supported in 2017 include Camp Hope, CASA – Grand Junction, Central High School Band Parents, Child and Migrant Services, Children's Nature Center, Civil Air Patrol, Clifton Christian Church Food & Clothing, Colorado Discoverability, District 51 Foundation, Grand Junction Imagination Library, Grand Valley Peace & Justice, Grant A Wish, Kids Aid, Kiwanis Club of Grand Junction Foundation, Latin Anglo Alliance Foundation, Mesa County RSVP, MusicSpark, Riverside Educational Center, Thrift Shop of Fruita, and Young Life Grand Valley.
Statewide, Wells Fargo contributed several million dollars to Colorado nonprofit organizations and the company's team members volunteered tens of thousands of hours in their local communities.
---
970-260-9723
750 Main Street, Grand Junction, CO
Identity Design
Website Design
Graphic Design
In today's economy we no longer compete with companies down the road, we compete with the entire world. No matter how good you are at what you do, if you're not standing out, you're losing out.
Wild Monkey Design is built on bold ideas. We don't outsource our work, we build it in house from the ground up and work directly with our clients to maximize their personality and character in everything they do. What makes our clients unique is what makes their logo, website, and entire portfolio unique.
Our client's success is our success. It's our reputation on the line every time a consumer sees our clients' website, logo, or marketing campaign. We keep our client list to a manageable level to ensure that in everything we do, we give it everything we have. At Wild Monkey Design, if you aren't satisfied with our work, we aren't satisfied. Lifelong client loyalty and word of mouth is how we build our business because your success is our pride and our reputation is our bottom line.
For information about joining the Chairman's Circle: Contact Trisha Martinez at trisha@gjchamber.org » (970) 242-3214 » (800) 352-5286