We know that businesses joining the Chamber need to see value from that investment so we offer programming to address the many diverse needs of our business community.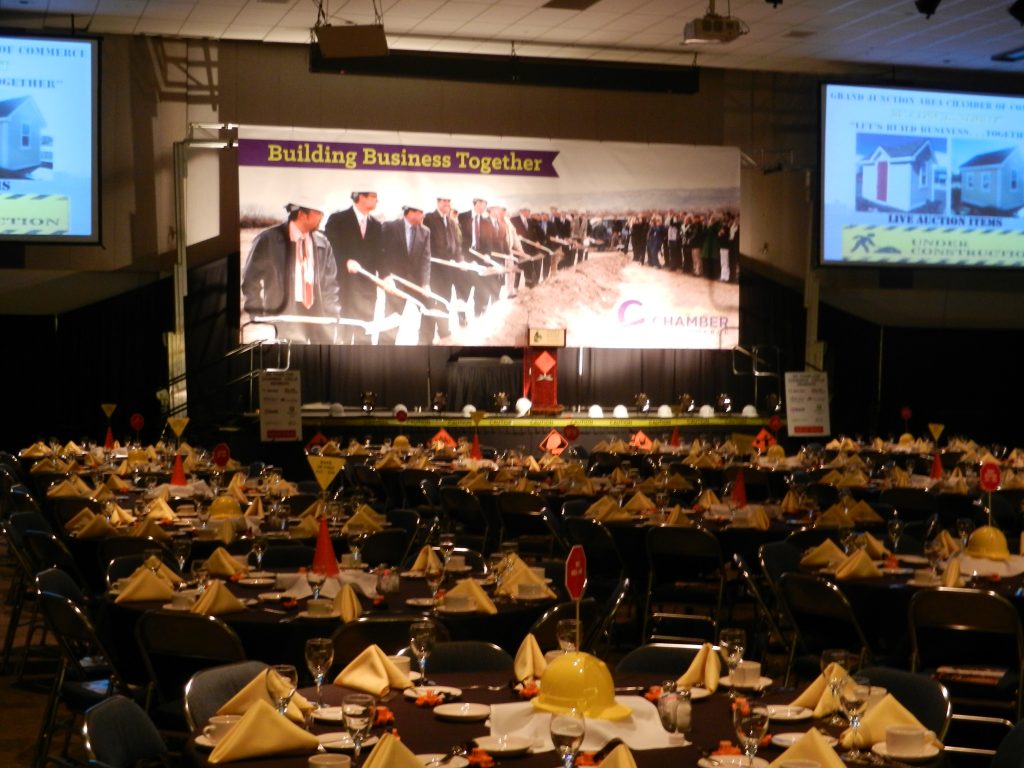 Joining The Chamber has many benefits.
Networking Opportunities:
Last year the Chamber handled approximately 507,683 requests for local business information. Callers are referred to Chamber member businesses. Click here to view our online business directory.
Leads Groups are noncompeting businesses that meet once a week to exchange business leads
Business After Hours is our largest monthly networking venue with over 200 people meeting after work for a beverage and conversation.
Networking at Noon is a once a month opportunity to meet new business people in a small group setting for lunch and facilitated conversation
Quarterly Membership Meetings are held over lunch on the third Monday of March, June, September and December and offer a keynote presentation focused on business in addition to networking
Young Professionals Network is a networking venue for business people under the age of 40 to get to know each other, ask questions of seasoned business leaders and socialize with their own Business After Hours event each month.


YPN Application (PDF)
Marketing Assistance:
Business Referrals are done in two ways at the Chamber. First, members are told how many times their information is viewed online in our business directory. Secondly, staff records all personal referrals provided over the phone and in person.
Business Connect is a program offered by Chamber marketing staff in collaboration with the Mesa County Library System to identify key customer groups and download a list of customers to market to via RefUSA.
Membership Directory is offered in two formats. An online directory is updated daily and is searchable by name and business category. A printed directory is completed each February and hand delivered to member in addition to being included in relocation and welcome packets for new residents.
Save Local Now is a free member benefit that allows members to advertise specials and list events online that then link to their other social media saving time. Nine different analytics help members hone their message in the digital world.
Sponsorships are a way for businesses to create top of mind awareness and keep their name in front of businesses and the public. Click here for a list of sponsorship opportunities.
Advertising in the Chamber Membership Directory or through the Chamber website and newsletter is also available. To inquire about advertising opportunities, pricing and the best fit for your business, click here.
Helping Create Jobs
Tools for Business Success is a one stop source for small business owners to learn how to be more effective and efficient in marketing, managing finances, supervising employees and other aspects of running their businesses to be successful and grow. Learn more about Tools for Business Success.
Business Barometer is a monthly compilation of key economic indicators that businesses can use to benchmark their own performance and plan for the future. View the most recent Business Barometer.
Business Personal Property Tax Rebates are offered by Mesa County for existing businesses that expand. Chamber staff applies on behalf existing businesses for this rebate on an investment of $1 million or more. For more information, contact Diane Schwenke.
Business Expansion Recognitions are cited at each Chamber Quarterly Meeting. Any business that has added employees or made a capital investment is eligible for this recognition which includes a complementary lunch and award. To notify the Chamber of your expansion, click here.
Industrial Developments, Inc. is a sister organization to the Grand Junction Area Chamber that can provide free or low cost land for eligible economic development projects. View the IDI website for more information.
Being the Business Voice:
Governmental Affairs Committee is a large committee with a diverse membership that helps shape policy for the Chamber and speaks out on matters that will impact the bottom line of businesses. The committee hosts videoconferences with lawmakers, visit the State Capitol en masse once a year and attend local government meetings as well. To learn more about how to get involved, click here.
Mesa County Leadership Program offers business people that desire to play more of leadership role on government and nonprofit boards a ten month program to hone their leadership skills and learn more about aspects of the community. Applications are accepted in May of each year with classes beginning in early September.
Speaking out on regulations is becoming increasingly important when small businesses are burdened with up to $20,000 of regulatory compliance costs per employee. From health care to workers compensation to the federal lands management the Chamber weighs in with a business and economic perspective regularly.
Workforce Development
Future Workforce Committee is a standing committee of the Chamber dedicated to helping students acquire the skills they need to be successful in the workplace. The committee includes partners from education and government to manage and launch two programs:

Young Entrepreneurs'' Academy is a 30 week program for middle and high school students that want to start a business. Students don't just learn "how." They actually "DO" start a business with mentoring assistance from business professionals. Learn more about this program click here.
Hire Me First is a collaborative effort with School District 51 and the Mesa County Workforce Center to provide high school juniors and seniors with career exploration opportunities and skill set development. The program is currently being piloted at Central High School but may soon be expanded to other area high schools.

Chamber University is a partnership with Global Classroom to offer Chamber members the opportunity to upgrade their skills and the skills of their employees in business related fields online. New users can test drive the courses for three months at no charge. After that there is a monthly subscription fee per person for unlimited access to Chamber