The Chamber's 2018 Business Plan has significant areas of focus related to helping create jobs, develop a skilled workforce, and build relationships. Shown below are some examples of achievements between January and March:
After 27 visits to area businesses the following needs were identified and addressed in some fashion; an incentive package was prepared for an existing business expansion that will result in 36 new jobs; access to needed resources (financial and technical assistance) were provided to 12 companies; internships/job shadows were arranged for 40 students.
Along with ED Partners a foreign trade zone moved closer through the submittal of a user fee airport application to the Denver office of Customs and Border Protection.
A joint letter, with over 20 other entities, was crafted and submitted to the Department of Interior requesting consideration for a headquarters location as a result of the reorganization.
The business voice was heard in the halls of the State Capitol as this organization weighed in on over 35 pieces of legislation and lobbied for funding for health care facility expansion funding at Colorado Mesa University.
Over 1,600 members attended the Annual Banquet, Health Care Summit, Quarterly Membership Meeting, three Business After Hours, and two Energy Briefings.
Every member with a commercial local address received a visit from Chamber staff or volunteers as the 2018 membership materials were distributed.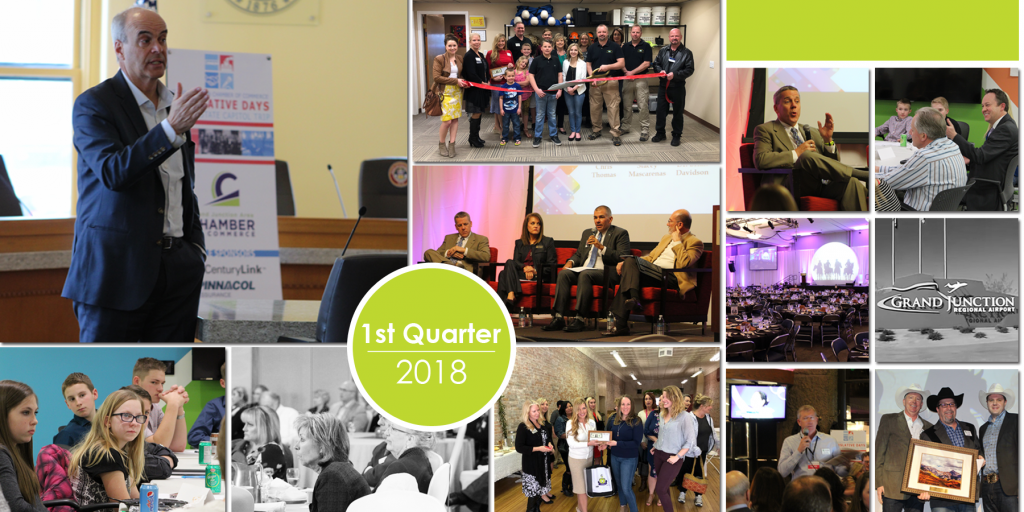 Click here to download the full version of the Grand Junction Area Chamber of Commerce April 2018 Newsletter.