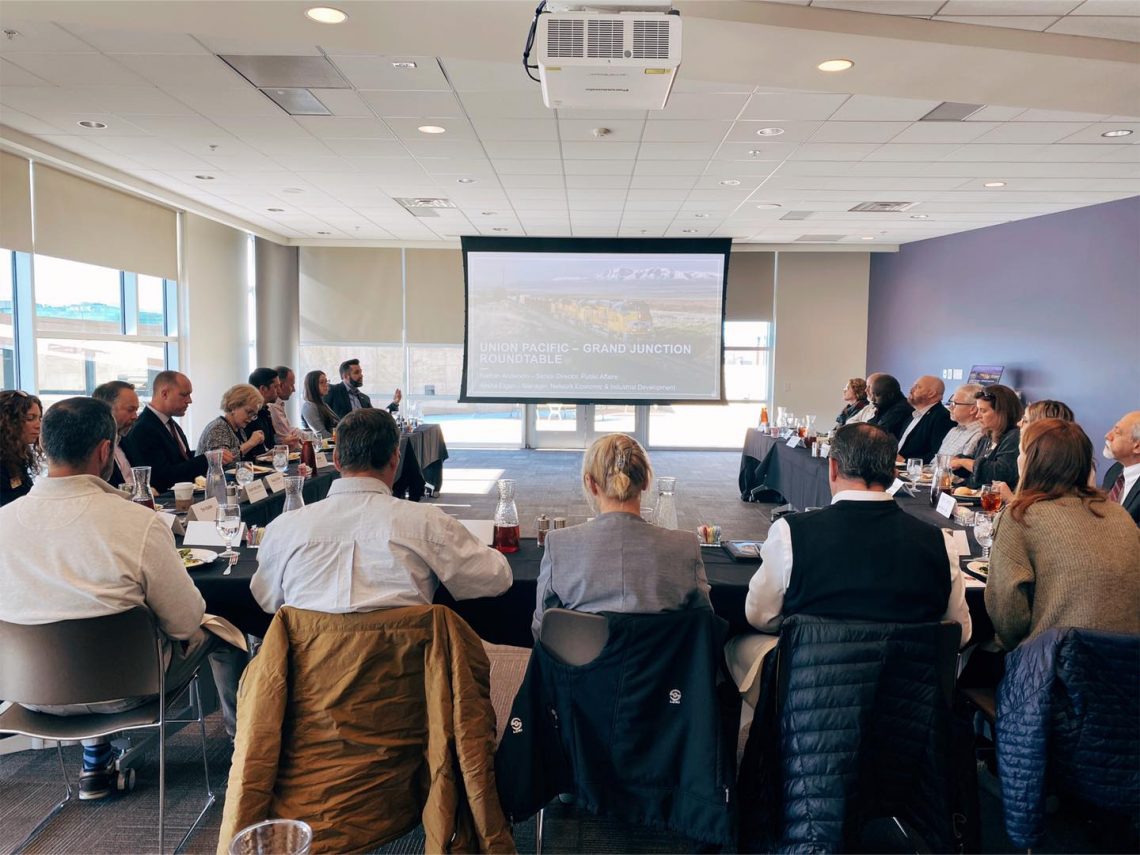 Advocacy can take many forms from lobbying on proposed legislation to participating to in federal/state rulemaking processes to working to generally improve the overall business climate.
An advocacy effort that the Grand Junction Chamber engaged in long before supply chain issues hit the news nationally, was the ability of our businesses to effectively get freight in and out of the community. In the past three years, at the urging of the Chamber, a private business, Rocky Mountain Rail, was formed to offer local transload services and storage. Transloading is very similar to intermodal shipping in that products are transferred between trucks and trains – except that with transloading, products are moved between conveyances rather than staying in the same container the whole way. The Grand Junction area is fortunate to have such a service, now offered at two locations as similar sized communities such as Great Falls, Montana which struggled for years to have that service. The area is also fortunate in that there is capacity within the Union Pacific railroad infrastructure and at Rocky Mountain Rail to increase this form of cargo handling.
This was one of the many things participants learned last week through briefings with Union Pacific (UP) officials, arranged by the Chamber. Nathan Anderson, Senior Director of Public Affairs Policy and Alisha Elgin, Manager of Network, Industrial, and Economic Development for the region shared key insights into how freight is moved across the country and how local businesses can access rail to save time and money when shipping certain kinds of materials.
The pair also gave detailed information about what are known as ocean containers, including who owns them and directs their delivery along with where there are multi modal loading/unloading capabilities. In multi modal shipping a container with product is loaded at one end of the journey and unpacked at the destination with the container itself typically being moved between ship rail and truck (not the actual product as happens with transloading).
There has been a lot of confusing information about whether Grand Junction is capable of loading containers directly from a train. These containers are typically loaded onto 200 car trains at the port and shipped via express to major metropolitan areas such as Salt Lake City, Denver, Chicago, and Dallas. No community the size of Grand Junction has the volume to justify these trains stopping in their communities. Volume is not the only issue here however as there are also height restrictions and grade issues on the line that runs through Grand Junction. That is why these container trains take a northern route through Wyoming to get to Denver which uses less fuel.
The purpose of the presentations by UP officials was to emphasize what is possible, not to dwell on what is not. We have more opportunities and options for moving freight today than we did three years ago and it is time we maximize those opportunities.
For more information on freight issues or other challenges a local business may facing please contact the Grand Junction Chamber staff. We are here to help.