Yes, we know it is about 100 degrees outside but here at the Chamber we are planning some "cool" events for this fall that you need to get on your calendar NOW!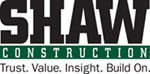 Chamber Annual Golf Tournament September 22nd at the Golf Club at Redlands Mesa will mark the 24th time that we have hosted this event "linking" our members to each other. Sponsored by Shaw Construction the event will feature two flights along with sponsored drink and game holes in an unmatched outdoor venue. Candace is now taking reservations and can also provide sponsorship information at 970-263-2919.

Chamber Business Showcase, October 24th at Two Rivers Convention Center will help you "cruise" into the holiday season and provide a passport to potential customers. Booth space is now available at this event, sponsored by Restoration 1 and all members and their guests are encouraged to mark time between 4:00 PM and 7:30 PM on October 24th to visit the Showcase.
Click here to download full version of the Grand Junction Area Chamber of Commerce July 2017 Newsletter.