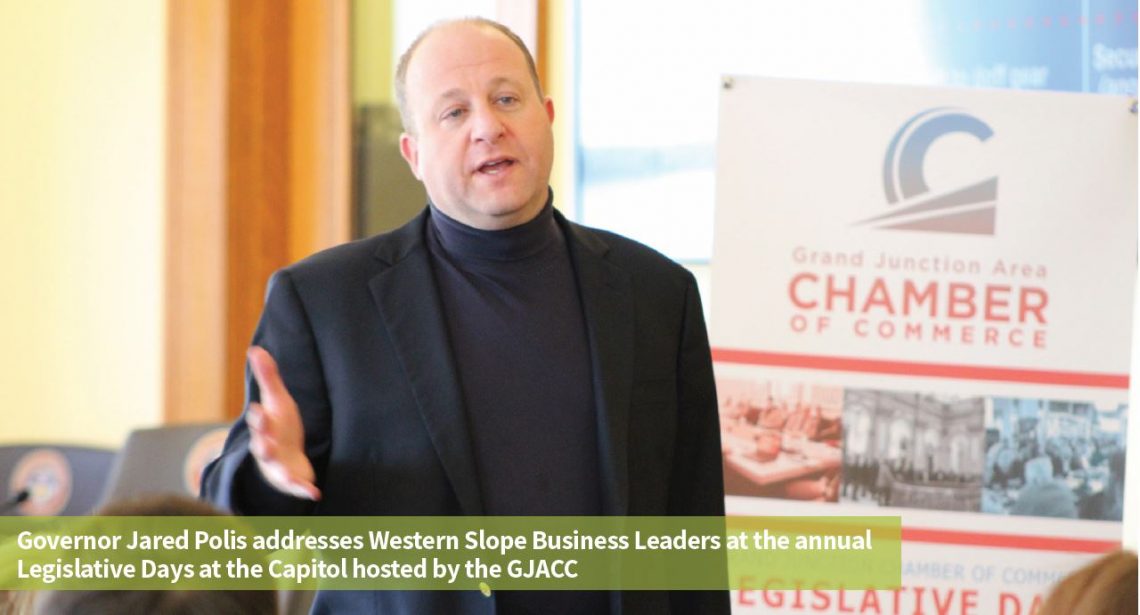 Being strong advocates for business was cited by 40% of the Chamber's membership in the 2019 annual survey as the top priority for the Chamber. This time of year, the organization is particularly focused on reaching out to policy makers in Denver and in Washington D.C. to ensure that local small businesses have a voice in proposed legislation and regulations.
Starting each year in January, Chamber members meet for bi-weekly video conferences with State Senator Ray Scott, Senator Don Coram, Representative Janice Rich, and Representative Matt Soper that will continue through early May. During these video conferences, members have the opportunity to learn about current and upcoming legislation being proposed at the Capitol and weigh-in on how it will impact their ability to maintain a healthy business.
In addition to those bi-weekly videoconferences, recently over 40 Chamber members returned from the annual Grand Junction Legislative Days at the State Capitol. Key board members, Mesa County Leadership Class participants, and members of the Chamber's Governmental Affairs Committee had the opportunity to meet and discuss major issues with members of the legislature and Governor Polis's cabinet. The proposed Family Medical Leave bill, a public option for health insurance coverage, unionization of state employees, and key economic development issues for our

part of the state were topics covered in the various sessions. Perhaps the most important event of the two days is a hosted dinner for lawmakers where informal networking and discussions can occur. Annually over 20% of both houses attend this event to learn about Western Slope business issues. Sponsors for the trip included Pinnacol Assurance, Charter Communications, Grand Valley Power, and Colorado Petroleum Council.
To date the Chamber has taken positions on 22 bills before the State Legislature, testifying in committee hearings and sending correspondence to lawmakers all in an effort to foster a healthy business climate in the state and Mesa County. A sampling of the bills that the Chamber has taken action on includes:
Bills Supported:
• HB20-1002 College Credit for Work Experience
Rationale: This bill would allow students and members of the current workforce to earn post secondary credit for demonstrating competencies gained through work-related experience, such as work-based learning in high school through apprenticeships.
• HB20-1003 Rural Jump-start Zone Act Modifications
Rationale: This bill extends the rural jump-start program for an additional 5 years, and enables even more businesses to take advantage of the incentives and benefits offered through the program.
• SB20-094-Plug-in Electric Motor Vehicle Registration Fees
Rationale: This bill will generate additional revenue for transportation in the state by imposing registration fees on plug-in electric vehicles.
Bills Opposed:
• HB20-1025 -Sales Tax Exemption Industrial And Manufacturing Energy Use
Rationale: This bill would substantially increase the cost for businesses because they would need to meter every room to separate those that are directly tied to manufacturing and those that are not, making it cost prohibitive.
• SB20-093-Consumer And Employee Dispute Resolution Fairness
Rationale: This bill would make it extremely difficult to enforce binding arbitration clauses in consumer and employment contracts, which could result in an increase of unnecessary litigation, increasing costs for businesses and consumers.
• SB20-109- Short-term Rentals Property Tax
Rationale: This bill reclassifies and redefines short-term rental units, which will result in an increase in property taxes for many rental properties.
Members are encouraged to forward business related pieces of legislation to the Chamber staff for consideration at upcoming Governmental Affairs meetings and participate in the remaining videoconferences of the session.
For more information, reach out to Diane (diane@gjchamber.org) and/or Darcy (darcy@gjchamber.org).
Click here to download the full version of the Grand Junction Area Chamber of Commerce March 2020 Newsletter.