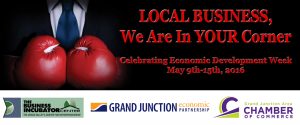 Last month the City of Grand Junction passed a resolution declaring May 1st through May 7th as Small Business Week. A recent review of the data shows that 99.4% of the businesses in Mesa County have less than 100 employees so we are definitely a community of small businesses and it is appropriate to celebrate them and what they do for our economy.
Following on the heels of Small Business Week is Economic Development Week, May 8th through May 14th. The purpose of this new celebration is to bring awareness to communities across the nation of the difference economic development professionals make along with the resources at their disposal can make in helping small business grow.
All Economic Development Partners will be participating in activities locally but the Grand Junction Economic Partnership, Business Incubator Center and the Chamber
are collaborating on some major initiatives including:
A month-long billboard featuring the three entities
Collecting video clips from businesses and elected officials discussing how economic developers make a difference that will be showcased on websites and elsewhere.
A traveling "I Love My Job" booth where we will be collecting video testimonials for the area's workers on living and working in the Grand Valley.
If you would like to have your company or your workers participate in any of these activities, please contact C.J. at the Chamber office (970-263-2917).
Click here to download full version of the Grand Junction Area Chamber of Commerce May 2016 Newsletter.