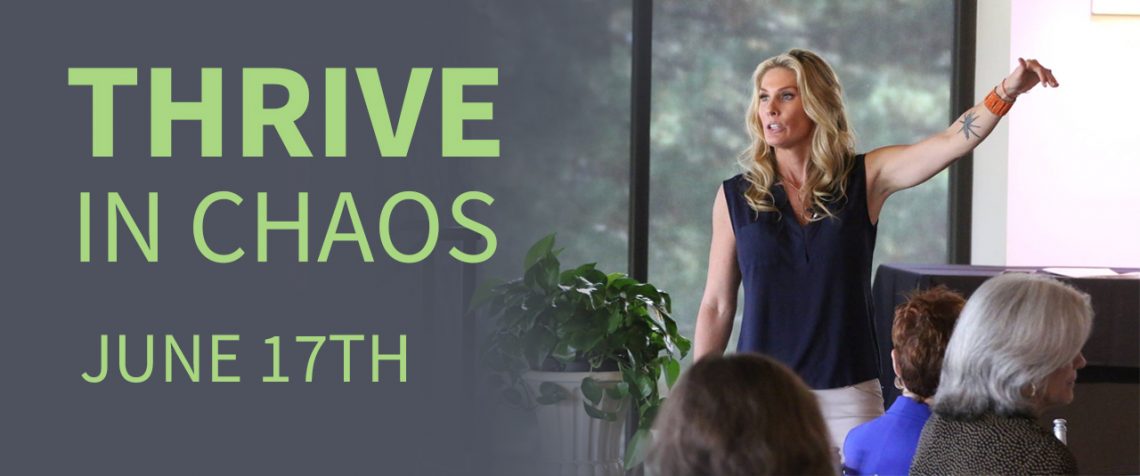 The Chamber realizes that in business and in life, we're put to the test not when things are going right, but when they get chaotic. How we react can be the difference between success and failure and determine whether your team comes together or falls apart.
As we looked at potential topics for our June Quarterly Membership Luncheon topics, we realized the need to learn strategies to adapt your thoughts and plans on a moment's notice, lead through uncertainty, and eventually thrive in chaos.
Join us as we have Corrine Hancock, Chaos Coach, share her Thriving in Chaos program. Thriving in Chaos challenges participants to explore diverse ideas, challenging assumptions and mindsets. It gives participants practical tools and ideas for how to prepare for change, how to deal with it when it hits and how to rise to the occasion and lead yourself and others, regardless of the organizational challenges.
Corinne Hancock was on the front lines, building teams in high-pressure, stressful situations around the globe as the Director of Clinics for Project CURE, and as a State Department leadership coach. She brought together multi-generational and multi-cultural teams to train leaders, open clinics and deliver medical care in some of the most remote locations on the planet.
Don't miss this amazing opportunity to grow as a business owner, operator, and team member!
June 17th at the DoubleTree by Hilton at 12:00pm.
$18 for GJACC members in advance
$23 at the door & non-members.
Space is limited, reserve your seat by visiting
www.gjchamber.org or call 970-242-3214.
Expanding businesses will also be recognized at this luncheon.
This event is presented by Venture Advocates and sponsored in part by Asset Engineering Limited, Capital Business Systems, and Moody Insurance Agency.