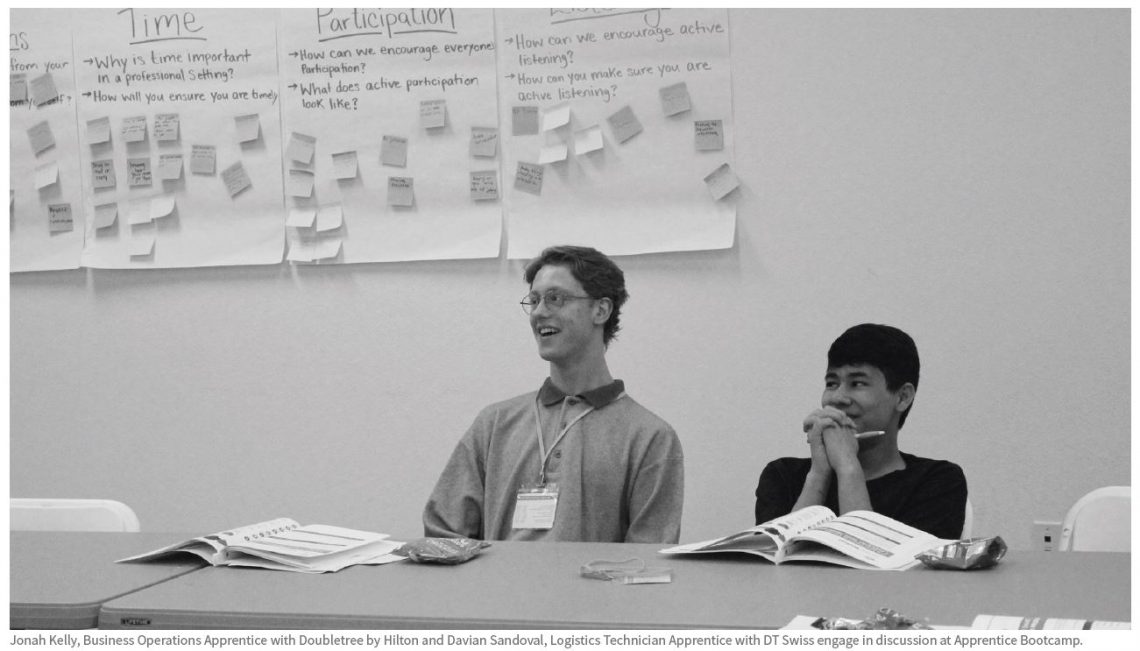 As many local employers have experienced, finding qualified early career talent is increasingly expensive, competitive, and time-consuming. Through CareerWise Colorado, employers gain access to early-career talent that can be shaped into loyal, skilled employees who generate positive ROI, rejuvenate company culture, and develop a long-term, sustainable talent pipeline for hard-to-fill roles.
From advanced manufacturing to financial services and information technology, CareerWise provides talent solutions for companies of all industries and sizes. CareerWise apprentices are bright,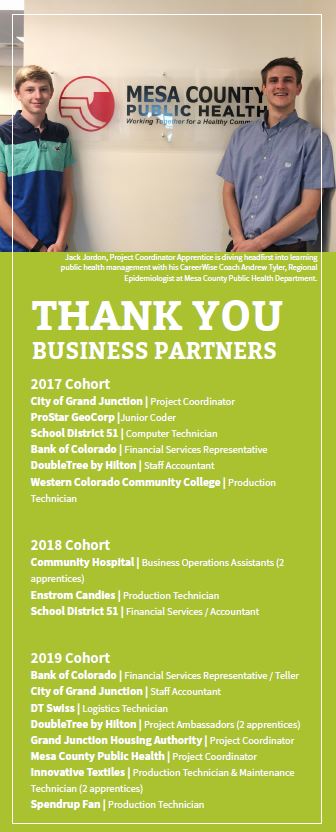 motivated students who are eager to learn and apply their work ethic. "Gretchen has developed a great skill set and has become an invaluable resource for other students in the machining program. Her work ethic is beyond her years," according to Michael Carlton, Instructor of Manufacturing Technology, who supervises a third-year apprentice in the machine shop at Western Colorado Community College.
Here's how it works:
CareerWise works with partners at D51 to recruit and vet students who are ready to work. Students undergo career readiness and soft skills training before they begin work and on an ongoing basis over three years.
Apprentices begin working their junior year of high school. They work 12-16 hours/week the first year, 16-24 hours/week during their senior year, and after graduation, are available to work up to 40 hours/week. College bound students may still work in the 24-hour range in the third year, as participating employers cite that even part-time employees who are well trained and motivated bring great value to the workplace. After the apprenticeship, employers have the option to hire their apprentice as a full-time employee who is fully trained and ready to return the investment that's been made.
However, employers who invest in apprentices experience a return well before three years. For example, Danielle Jacob, a third-year apprentice at DoubleTree by Hilton received the hotel's Employee of the Month award in May, evidence of the great work she's doing. Apprentice Savanna Pottorff recently helped manage the logistics for the Missouri Valley Fire Chiefs Conference,
a 300-person conference hosted by Grand Junction Fire Department this summer. "Savanna managed a good part of this event, and offered outstanding planning, management, communication, and customer service," according to Ellis Thompson-Ellis, Grand Junction Fire Department Community Outreach Specialist.
Even first-year apprentices are adding value within a short amount of time. "Ian is doing great and catching on faster than I had expected," according to Joe Aragon, Production Manager and first-year apprentice supervisor at Spendrup Fan. Businesses see a return on their investment as apprentices earn a training wage which saves payroll and frees up higher-level employees to do higher-level work. And, apprentices are up for the challenge. According to Jack Jordon, first-year apprentice at Mesa County Public Health, "CareerWise is giving me a platform that I'm building for myself. When I get to college, I'll already have the skills, experience, and knowledge that my peers will still be trying to figure out."
If your business is struggling to fill its talent pipeline consider CareerWise, a program that connects employers with talent and students with opportunities… and offers a structure and support system that leads to success for both.
CareerWise is now recruiting for the 2020 cohort. For more information contact Jammie McCloud at 970-263-2913 or Jammie@GJChamber.org.
CareerWise is a collaborative effort between the nonprofit organization CareerWise, based out of Denver, Grand Junction Area Chamber, School District 51, Mesa County
Click here to download the full version of the Grand Junction Area Chamber of Commerce October 2019 Newsletter.