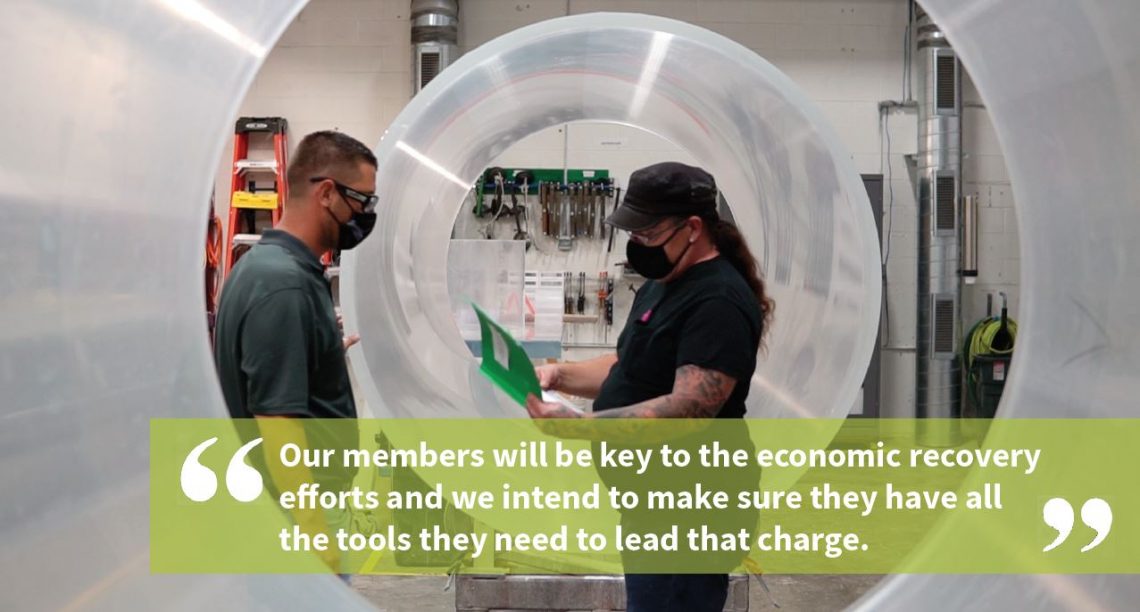 When the Chamber Board of Directors conducted their annual planning session virtually in early November, a key theme emerged…the focus has to be on our members and how to help them transition from pandemic to prosperity. The plan that was adopted in December by the Board reflects that philosophy. It also incorporates some lessons learned this past year on how to engage our members and deliver services.
For instance, while many of us are experiencing zoom fatigue right now, online platforms with access to recordings are still a valuable and time-effective way to deliver educational sessions. The Chamber will continue to deliver webinars containing needed information on topics needed by our members such as changing employment law and effective tax planning. A new program, the Industry Insider Series will also be virtual and examine trends, techniques, and issues in specific business sectors as they move forward in recovery. The online platform allows us to integrate both local and national speakers in this series that will help us better understand each other and the segments of our economy.
2020 also saw the strengthening of economic development and workforce development partnerships between the Chamber and multiple entities which will lead to even greater collaboration in 2021. Together with workforce partners we will deliver upskilling resources for existing workers and jointly offer area youth work-based experiences from job shadow to internships to multiyear apprenticeships. The Mesa County Economic Development First Responders, an organization of 18 different ED, Government, and Education leaders, will continue working together to craft business recovery strategies that will ensure our economic recovery is swift.
The focus on members must include more personal outreach and the return to in-person networking events as soon as it is safe to do so in 2021. Everyone knows that this is a community where we still want to do business with people we know and that is best done face to face. Quality Networking opportunities are a member expectation and essential to a strong chamber. We will offer periodic "maximize your membership" sessions for all members, new and old. The sessions will offer tips on how to use all the Chamber's tools and programming to grow individual businesses. Quarterly Membership Luncheons, Networking at Noon, Business After Hours and Leads Groups will be back along with in person ribbon cuttings and other special networking events.
Advocating for a strong business climate has always been a cornerstone of our programming and will be strengthened in 2021 with the creation of more effective and interactive ways for our members to add their voice to ours on key issues at all levels of government. There will also be better communications on why the Chamber supports or opposes legislation and ballot issues.
Health insurance continues to be a major concern for our members and the plan envisions more education about health care options and greater participation in local efforts of the Mesa County Health Leadership Consortium. Sustainable and quality health care options for employees are essential and the Chamber voice will be active in seeking solutions to this growing problem.
"Our members will be key to the economic recovery efforts and we intend to make sure they have all the tools they need to lead that charge," noted Diane Schwenke, President and CEO.