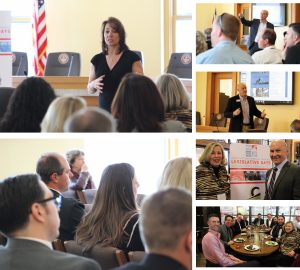 It has been a busy session so far in 2018 for the Chamber's Governmental Affairs Committee with action taken on a number of bills of interest to business. Shown below are bills that the Chamber has engaged on as of February 20th:
Chamber Supports:
HB18-1004 Continue Child Care Contribution Tax Credit
HB18-1022 DOR Department of Revenue Issue Sales Tax Request For Information
HB18-1034 Career and Technical Education Capital Grant Program
HB18-1135 Extend Advanced Industry Export Acceleration Program
HB18-1036 Reduce Business Personal Property Taxes
HB18-1049 DHS Department of Human Services Authority to Lease Grand Junction Regional Center
HB18-1150 Local Government Liable Fracking Ban Oil and Gas Moratorium
HB18-1069 Reclaimed Water Use for Toilet Flushing
HB18-1083 On-demand Air Carriers Sales and Use Tax Exemption
HB18-1093 Reclaimed Water Use for Edible Crops
HB18-1185 Concerning Changes To The State Income Tax Apportionment Statute
SB18-042 Creation of the Agriculture Workforce Development Program
SB18-108 Eligibility Colorado Road and Community Safety Act
Capital Development Committee Priority Projects- Colorado Mesa University Health Sciences Building
H.R. 620 ADA Reform and Education Act of 2017
Chamber Opposes:
HB18-1001 FAMLI Family Medical Leave Insurance Program
HB18-1043 Beef Country of Origin Recognition System
HB18-1157 Increased Reporting Oil And Gas Incidents
HB18-1071 Regulate Oil & Gas Operations to Protect Public Safety
SB18-064 Require 100% Renewable Energy By 2035
SB18-120 Period For Tenant To Cure Unpaid Rent
Chamber is Monitoring:
SB18-001 Transportation Infrastructure Funding
HB18-1119 Highway Building & Maintenance
HB18-1113 Small Business Regulatory Reform
SB18-005 Rural Economic Advancement Of Colorado Towns
HB18-1092 Marijuana Delivery Pilot Project
Click here to download the full version of the Grand Junction Area Chamber of Commerce March 2018 Newsletter.