Who doesn't enjoy "schmoozing?" It's fun and a lot less stuffy than a business showcase which is why the Chamber is shaking up an event it has hosted for over 20 years to inject more collaboration, more celebration and more fun! Honoring the relationship that our chamber and our members have with other chambers in the Valley the Schmooz-a-Palooza, sponsored by Restoration1, is hosted not just by the Grand Junction Chamber but by the Fruita and Palisade Chambers as well on Tuesday, October 24th, 4:30 to 7:30 PM at Two Rivers Convention Center and is open to the public. Booth spaces will now come in a greater variety of sizes and prices to meet business needs. The floor layout will feature clusters of exhibitors (not "rows"), comfortable networking spaces and a central staging area for announcements and prize giveaways.
For exhibitor information and more details, contact Candace at the Chamber office (candace@gjchamber.org or 970-263-2919). And if you are not planning to exhibit, mark your calendar now because you won't want to miss Schmooz-a-Palooza!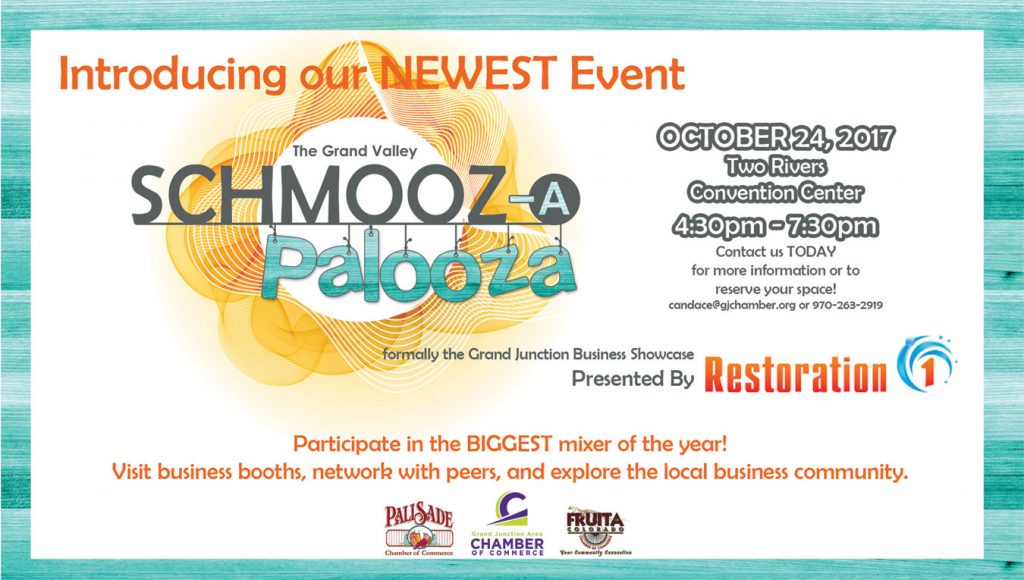 Click here to download full version of the Grand Junction Area Chamber of Commerce October 2017 Newsletter.