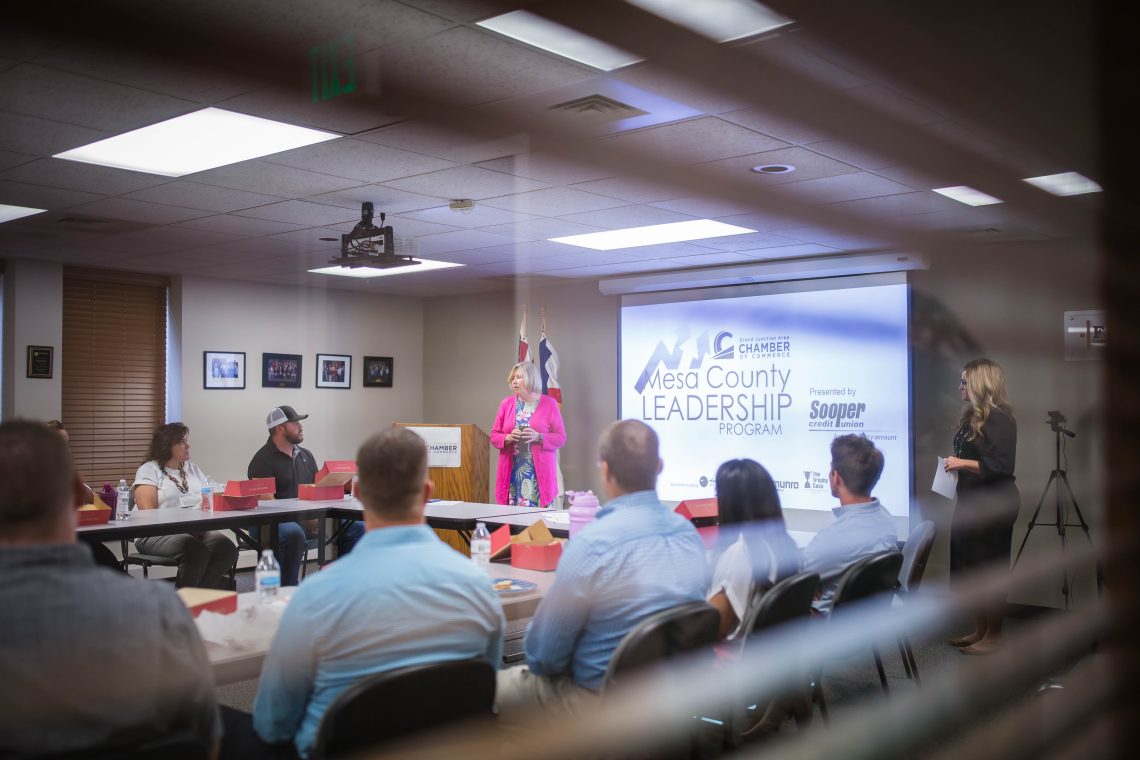 The Grand Junction Area Chamber of Commerce championed the creation of a local leadership training program for mid to upper-level business managers 30 years ago. The purpose of the Chamber offering such a program was to encourage business participation on boards, commissions, and to be more active in public policy development – including running for public office. The focus was a holistic approach to the community with major emphasis on how all aspects of the community come together to form a unique culture. Since its inception, over 340 individuals have graduated from the Mesa County Leadership Program. Many of them have gone on to serve on nonprofit and local government boards and serve the community in a more visible way.
"We are proud to bring this program to our members and the community at large," noted Diane Schwenke, President and CEO. "It is one of the ways we help ensure that a business perspective is brought to our community dialogues and discussions. It helps promote our community with a behind the scenes learning approach"
By discovering and learning about these essential elements in our community, participants in the Mesa County Leadership Program gain an understanding of the importance to not only being successful in their professional career, but to also find ways to give back to this community we live, work, and play in!
"The Grand Valley truly has so many opportunities for businesses, and you just don't know what's out there until you are in front of these leaders who are making a difference." said Kianna Colaizzi from Bank of Colorado. She went on to say "Last week's Leadership Class taught me about all these opportunities, got me in front of these leaders, and showed me the exciting economic future of our community."
Businesses and organizations have also used the program to acclimate new employees from outside the region as well. Elizabeth Fogarty, Director of Visit Grand Junction (class of 2019), makes note of how this has helped her. "Being new to the area, the Mesa County Leadership Program has proven to be an invaluable experience and has provided me a thorough understanding of the region. The program is extremely well organized, thought-provoking, entertaining and shares the impacts of key organizations, nonprofits, and industries in the area. I highly recommend it, even if you are a long-time resident – I guarantee you will gain invaluable insight and a renewed appreciation for your hometown."
While there is value in all of the classes, the entirety of the program has aided participants in their professional growth. David Payne, Assistant General Manager at Ute Water Conservancy states, "This class greatly expanded my knowledge about the people and organizations that work to promote and recruit businesses into the Grand Valley. Together, they support our Western Colorado lifestyle while also ensuring we retain this vibrant community that we call home."
Applications for the next Mesa County Leadership Program will be accepted the beginning of April through June 15th and an online form can be found here: 2022 Leadership Application. Class size is limited to no more than 25 participants and those chosen are expected to attend all ten sessions, most of which are a day long. For more information contact Diane or Candace: diane@gjchamber.org or candace@gjchamber.org.