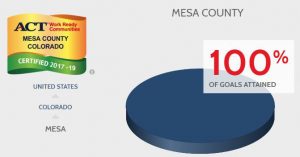 Mesa County recently became the first and so far, only county in the State of Colorado to receive ACT Workforce Ready Certification. The foundation of a community's certification is based at the county level—across the current, transitioning, and emerging workforce—on individuals earning and employers recognizing the ACT National Career Readiness Certificate™. The ACT NCRC is a portable, industry-recognized credential that clearly identifies an individual's ACT WorkKeys skills in reading for information, applied math, and locating information. These skills are the foundation of most jobs.
As of last week, 2,300 NCRC tests had been administered in the county and certificates awarded over the past two years. Of those taking the WorkKeys assessments, 62% received a silver certificate and 17% received a gold certificate or higher. An individual earning a gold or higher certification is deemed qualified for 93% of the entry-level position at over 40,000 different jobs in the ACT database. Additionally, 125 employers have signed up to recognize these certificates in their hiring process.
From an economic development standpoint having the Workforce Ready Community Certification is valuable, because it demonstrates to existing businesses that are hiring and new businesses that may be considering relocation, that we have mapped the skill level of our workforce and can demonstrate that we have the capacity to meet their needs. ACT Workforce Ready Communities have now been certified in 23 states including California, Oregon, Washington and Wyoming.
The effort originated within the Chamber's Emerging Workforce Committee, but was spearheaded by the Mesa County Workforce Center in collaboration with the Chamber, School District 51, Western Colorado Community College and employer groups. As Curtis Englehart, WFC Director recently noted… "This has been a huge community effort that should pay economic dividends in making Mesa County more attractive to businesses thinking to relocate and for current businesses that are looking to be more efficient in their hiring process."
For more information on how you can utilize this tool in your hiring efforts contact the Mesa County Workforce Center at (970) 248-0871