According to recent data from www.youreconomy.org, almost 83% of all businesses in the Grand Junction MSA have less than ten employees. One would think that we don't need to be reminded to shop with these businesses this holiday season, but we do. Deloitte University is predicting that e-commerce sales will rise 17 to 19% from November to January with national sales topping $95 billion.
More and more of us are finding it too easy, too convenient to open our laptops and purchase goods and services. But it is also important to stop and ponder how your online purchases are hurting more than the brick and mortar store on the corner. First, there is the impact it has on local government coffers. The recent headlines speak for themselves. Fewer sales tax means hard decisions at the city and county level in terms of which services and/or jobs are cut or not fully funded to address our growing needs in the areas of public safety and transportation for instance.
Secondly, there is an impact on nonprofits like United Way, Girl Scouts and Little League baseball teams. These small businesses rely on your purchases to pay their employees and give back to our community organizations. Fewer purchases often mean hard choices by local businesses as to which donations they can no longer afford to make.
Finally, there is the broader impact on our local economy. It has been estimated that a dollar spent locally turns over three times and has a domino effect in spurring more purchases and economic activity. Money spent on e-commerce typically leaves the community immediately.
The Chamber is proud to be a Community Champion in supporting Shop Small Saturday. We have organized a livestream presentation on November 1, 2017, at 10:00 AM at the Grand Junction Chamber to show you fun and easy ways to maximize this initiative for your business, this is open to all brick and mortar businesses in the Grand Valley as well as home-based businesses that will be offering Shop Small Saturday specials. American Express Shop Small has provided some great swag for you this year please stop by and pick up your free promotional materials.
Thanks to all of you in advance for shopping our many small businesses on Saturday, November 25th and throughout the holiday season.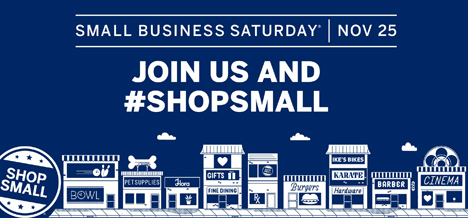 Click here to download full version of the Grand Junction Area Chamber of Commerce November 2017 Newsletter