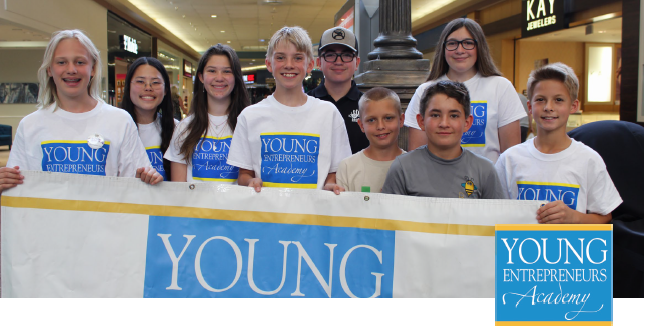 Close to 80 businesses have been launched over the past 8 years through the Young Entrepreneurs Academy!
The Young Entrepreneurs Academy, (YEA!) takes students in grades six through twelve through the process of starting and running real businesses over the course of a full academic year. Students work in close cooperation with local leaders of industry, community members, and educators to develop ideas and objectives, write business plans, pitch potential investors, obtain funding, register with governmental agencies, develop their brand identity and much more!
By the end of the class, students own and operate fully functioning businesses that can be carried on after graduation. Students learn to make a job–not just take a job! YEA!'s direct mission is to help students embrace their passion, energy, creativity and talents, launch a venture, and view entrepreneurship as synonymous with success and freedom.
Do you have a student at home who's interested in running their own businesses? Have them apply NOW for the YEA! Class of 2022 at gjchamber.org/young-entrepreneurs-academy-yea or contact Darcy Weir at 970-263-2916 or darcy@gjchamber.org. As we prepare for our next class of Young Entrepreneurs Academy, we'd like to thank those who are supporting us in doing so. Thank you to the YEA! Class of 2022 Sponsors:
Presenting Sponsor:
Premier Sponsors:
Home Loan and Investment
Mesa County Workforce Center
Mesa County Valley School District
Investor Sponsors:
Bank of Colorado
Mesa County Business Education Foundation
ProVelocity
VanWinkle Enterprises
Western Metals Recycling
Scholarship Sponsors:
Alpine Bank
Chick-fil-A
Fisher's Market
JG Management Systems, Inc.
No Coast Sushi
U.S Bank
Western Rockies Federal Credit Union