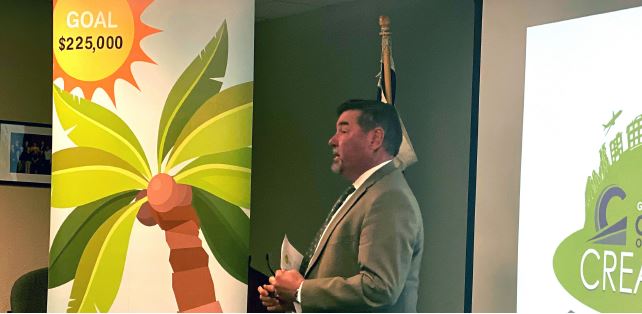 In September, the Grand Junction Area Chamber of Commerce launched our annual fundraising campaign, the 2020 Total Resource Campaign. With the help of an outstanding group of volunteers, this campaign was centered around efficiently raising the money needed for continuing the Chamber's mission of "being the voice of business" while also supporting the programs and resources our members value.
As the campaign kicked off, the staff, campaign chairmen, board of directors, and volunteers knew they had a challenging road ahead of them due to the unpredictability facing our business community. We had a big ask of the campaign participants – help us raise $225,000 to go towards programming for our 2021 calendar year.
After weeks of hard work, we gathered via Zoom in early December to see where our hard work had taken us…. and we couldn't have been prouder of our campaign team!
93 individual businesses committed to sponsorships and support for 2021

21 businesses joined the Grand Junction Chamber as New Businesses

and the grand total raised $282,530
We would like to thank EACH AND EVERY volunteer for the time, effort, and support you gave to our Chamber. The staff looks forward to working with these business partners in 2021 as we continue to lead the path to economic recovery in our community.
THANK YOU to our amazing volunteers!
Ryan Ellington, Edwards Jones Investments
Stuart Hall, Entrada Counsuting Group
Kelly Johnston, JFS,INC
Frank Lindeman, Capital Business Systems
Curtis Metcalfe, Rocky Mountain Health Plans
Mike Moran, WEICHERT, REALTORS – Heiden Homes Realty
Greg Olson, Growl Agency
Rick Reynolds, Wells Fargo Home Mortgage
Debra Romaniec, Senior Beacon
Sean Rubalcaba, Home Loan Insurance
Kileigh Sperber, ANB Bank
Nate Wallace, CommWest
Charles Wallis, Shelter Insurance
Sandra Weckerly, The Golf Club at Redlands Mesa
Tiffany Welch, CommWest
Ashlie Zimmerman, Hormone Health & Wellness of Colorado LLC
Thank You to These Businesses for Supporting our Programming and Efforts in 2021!
970 Medicare
Accurate Insulation
Ace Hardware of Clifton
Alpine Bank Grand Junction
ANB Bank
Antonelli's Advanced Automotive
Asset Engineering Limited
Atlasta Solar Center
Autopaychecks, Inc.
Bank of Colorado
Barnes Electric
Bechtel Santo & Severn
Caerus Oil & Gas
Capital Business Systems
Chevron
Chick-fil-A Grand Junction
Citadel Security USA
Clemmer Welding, LLC
Colorado Canyons Hospital and Medical Center
Community Hospital
CommWest
Connect for Health Colorado
CoorsTek, Inc.
Covenant Buildings, LLC a division of Covenant
CWOA
The Cycle Effect
Discovery Auto Group
EC Electric, Inc.
Edward Jones – Erick Field
Edward Jones Investments/Ryan Ellington
Eide Bailly, LLP
EIS Solutions
Enstrom Candies
Entrada Consulting Group, Inc.
Express Employment Professionals
FCI Constructors, Inc.
First String
Fisher's Liquor Barn
Fisher's Market Premium Natural Meats
GH Daniels III & Associates, Inc.
Golden Gate Petroleum of Nevada, LLC
The Golf Club at Redlands Mesa
Grand Junction City Government
Grand Valley Power
Granite Falls GJ LLC
Hawks Air Service Heating – Air Conditioning –
Heritage Title Company, Inc.
Home Loan Insurance
Hormone Health & Wellness of Colorado LLC
Hoskin Farina & Kampf, PC
Innovative Rural Sales
Ireland Stapleton Pryor & Pascoe, PC
Jennifer Stroh DO, LLC
JG Management Systems, Inc.
Kain & Burke, PC
Kerry Phillips Insurance Agency LLC
KKCO 11 News (NBC TV)
Landmark Staffing
Laramie Energy, LLC
Locally Maid LLC
Main Street Cafe
Mesa County Business Education Foundation
Mesa County Valley School District 51
Mesa County Workforce Center
Mesa Mall
Munro Companies, Inc.
Nexven, LLC
Nightingales Home Care
No Coast Sushi
Owl's Nest Quilters
Pinnacol Assurance
Porter Homes
Precision Printing
Quality Health Network
Real Estate Advisor @ Anna Rickenbach Properties,
Right at Home
Rimrock Wellness Center
River City Consultants
Rocky Mountain Health Plans
SAW Advertising Agency
SCL Health St. Mary's Medical Center
SG Aerospace & Gas
Shear, Inc.
Sooper Credit Union
Spectrum Business Services
Summit Midstream
Telluride Ski & Golf Resort
Timberline Bank
TMS Solutions
TWP Winery and Farm House
U.S. Bank, N.A.
VanWinkle Ranch LLC
Visiting Angels (T&D Harrison LLC)
Wegener Scarborough & Lane, PC
Western Metals Recycling, LLC
Western Rockies Federal Credit Union
Whitewater Building Materials Corp
Xcel Energy
Your Corner Consulting, LLC
Zag Property Sales LLC