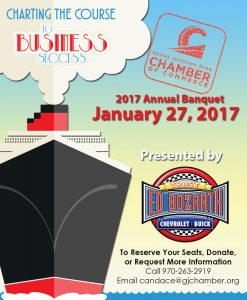 The Chamber is "charting a course" for fun, excitement, mystery and (maybe) romance on Friday, January 27th at Two Rivers Convention Center. Who else will be "on deck"? What will be some of those onboard items that just have to be bought before someone else snatches them up at the silent and live auction? Which companies and individuals will be honored? How will outgoing Chairman Matthew Breman look in his captain's uniform?
These and other questions will only be answered if you attend the annual banquet sponsored by Ed Bozarth Chevrolet and Buick, Inc. It is the largest gathering of Chamber members held in 2017. Tickets are going fast and seating is on a first come/first registered basis so buy those tables or individual tickets NOW!
And, if you'd like to join the crew and help make the evening more successful there are two ways you can help "swab the deck" without a mop.
The first is by volunteering to help us man the gambling tables in the Casablanca Casino, sponsored by Colorado West Outdoor Advertising. Knowledge of these games of chance are not necessary as we can help you get the hang of dealing blackjack, poker and manning the roulette wheel. "Sam" will provide all beverages and you can network with all kinds of characters! To volunteer contact Candace (candace@gjchamber.org or 970-263-2919).
The second is by donating an item to our silent or live auction. All proceeds are used to fund the Young Entrepreneurs Academy and the Mesa County Leadership Program. Items the committee is particularly looking for include:
Weekend getaway packages including hotel nights, time shares and the like
Sporting tickets (Broncos, Rockies, Avalanche, CMU Athletics)
Adventures (fly fishing, sky diving, skiing, rafting)
Furniture, particularly office furniture
Dining Gift Certificates
Original artwork
And just about anything else you think would be appealing to your fellow Chamber members. All donating businesses will be recognized and earn our undying gratitude.
Click here to download full version of the Grand Junction Area Chamber of Commerce January 2017 Newsletter.