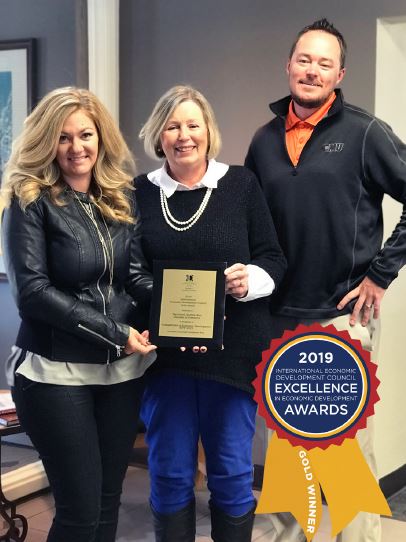 The Grand Junction Chamber of Commerce won a GOLD level award for its CHAMPIONS of Economic Development EDW 2019, a project in the category of Innovation in Economic Development Week of the International Economic Development Council (IEDC). The honor was presented at an awards ceremony on Tuesday, October 15 during the IEDC Annual Conference, which was held October 13 – October 16, in Indianapolis, IN.
Diane Schwenke, Chamber CEO noted, "Our ED Week Campaign project for 2019 focused on a multi-pronged approach, intended to reach out to both the local business community and the overall community-at-large in the hopes of reminding everyone that "We Are Champions" for Economic Development in all that we do. By focusing on strengthening the recognition of our traditional ED Partners, such as the local GJ Economic Partnership and the local Business Incubator, we continued the awareness of the daily efforts put forth to ATTRACT new business, GROW new business, and RETAIN existing business within our valley. In addition to the traditional ED Partners, other community organizations that play key roles in ED success were highlighted, showing the strong network of partners involved in ensuring continued job creation, job retention and improved quality of life that keeps our economy strong and growing. These partners included the local Workforce Center, Regional Airport, School District, University, Youth Apprenticeship Program, Business Park Development Organizations, and more!"
IEDC's Excellence in Economic Development Awards recognize the world's best economic development programs and partnerships, marketing materials, and the year's most influential leaders. Awards are judged by a diverse panel of economic and community developers from around the world, following a nomination process held earlier this year. IEDC received over 400 submissions from 12 countries.
"The recipients of IEDC's Excellence in Economic Development awards represent the very best of economic development and exemplify the ingenuity, integrity, and leadership that our profession strives for each and every day", said 2019 IEDC Board Chair, Tracye McDaniel. "We're honored to recognize more than 100 communities for their excellent work, which forges new opportunities for our profession. We look forward to even greater participation from economic developers across the globe in the 2020 awards program."

Click here to download the full version of the Grand Junction Area Chamber of Commerce November 2019 Newsletter.