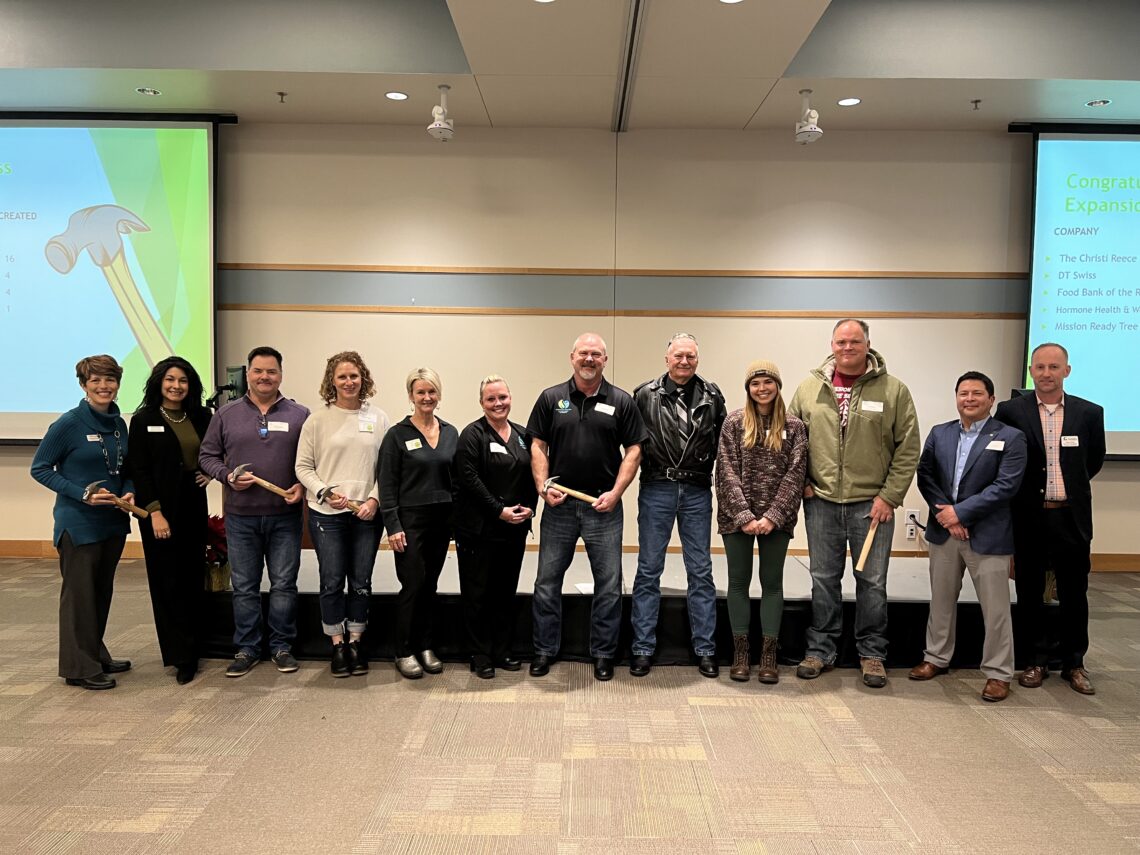 Earlier this week, the Grand Junction Area Chamber of Commerce hosted our Annual Economic Outlook Luncheon bringing together businesses to listen and learn from renowned Economist, Dr. Richard Wobbekind. The presentation provided by Dr. Wobbekind included details about both national and local trends in 2022 and what to expect in 2023.
Below are a few highlights and excerpts from the presentation and recent Economic Outlook report* regarding Mesa County:
Starting with the overall outlook of the business community, Dr. Wobbekind discussed that while the pandemic greatly impacted the local economy, the business community has remained resilient. Businesses are still interested in relocating to the Grand Valley, particularly outdoor recreation companies and technology companies with remote workforces, and many others.
Mesa County employment has remained steady throughout the year. More specifically, since February 2022, employment estimates have ranged from 75,174 to 76,207. The unemployment rate for the county is 3.4% as of September. The number of unemployed sits at 2,691 – 712 lower than last quarter and 2,148 lower than last year. In 2023, the state is expected to add about 57,000 jobs, compared with a gain of more than 120,000 jobs this year. The two largest sectors — professional and business services, and trade, transportation and utilities — are expected to add a combined 26,700 jobs in 2023, according to the 2023 Economic Outlook report.
An increasingly important conversation continued regarding real estate in the Grand Valley. The Mesa County real estate market in 2022 saw another quarter of high increases in sale prices. The median sales price increased by 18.2% compared to the same period last year. Since January 2022, there has been a 10.1% increase in median home value.
All in all, the story of this year was inflation, and it looks like the story for next year will be – inflation. While the rate may have crested, we are seeing a slowing in price increases. Looking into 2023, continued headwinds include a shortage of workers, high inflation, increased borrowing costs, and disrupted supply chains. However, these issues are signaling modest improvement. Colorado will remain an economically competitive state in 2023 with above-average growth in GDP, income, and employment.
In addition to learning from Dr. Wobbekind, the Grand Junction Chamber celebrated and recognized five, local businesses for their business expansions including capital investments and adding new employees. These businesses expanded, grew, and cumulatively spent over $15.975 million in capital investments and created 25 jobs locally!
The Christi Reece Group – A Refreshing Real Estate Company – $500,000 capital investment
DT Swiss – $3,100,000 capital investment and 16 new jobs
Food Bank of the Rockies – $12,000,000 capital investment and 4 new jobs
Hormone Health & Wellness – $350,000 capital investment and 4 new jobs
Mission Ready Tree Service – $25,000 capital investment and 1 new job
We commend and celebrate these businesses for their recent business growth and continued commitment to building the local business community. The businesses we celebrated and recognized throughout 2022 invested a TOTAL of $57.77 million and created 202 NEW jobs in the Grand Valley this year. We are excited to see and continue celebrating our community which continues to believe in the value of growing and developing our local economy.
The Grand Junction Area Chamber of Commerce is looking forward to 2023 and is committed to continually representing business priorities, providing resources and information, and working to help businesses navigate through uncertain times. If you are interested in reading more about the 2023 Economic Outlook, please visit www.colorado.edu/business/brd/colorado-business-economic-outlook-forum.
*Source: Business Research Division, Leeds School of Business, University of Colorado Boulder, (2023)Colorado Business Economic Outlook Report 2023.