Last month, the 2019 Class of Young Entrepreneurs Academy, an innovative program that guides students through the process of starting their own, real business, welcomed their business mentors to the class!

This year's mentors range from Michael Brooks, Dalby, Wendland & Co. to Phyllis Norris, City of Grand Junction, and also include:
Kraig Andrews, Major Mortgage
Jeff Crews, Entrepreneur
T.J. Elbert, In House Media
Ann Hartter, Tutor
Zane Hyland, Maverick Pest Management
Nichole Roberts, KKCO 11 News
Paula Rohr, Retired- Loma Hill Farms
Ben VanHoose, Alpine Bank
Ashlie Zimmerman, PeopleCare Health Services
Working one on one with a student, these industry experts help the students to fine tune their concept, write a business plan, identify their target audience, and perfect their Investor Panel pitch presentations!
Our YEA! Business Mentors started working with the students in early December, and will be with us until the end of January, for a total of seven weeks.
We'd like to thank our dedicated Business Mentors for taking the time to guide our students through the entrepreneurial process.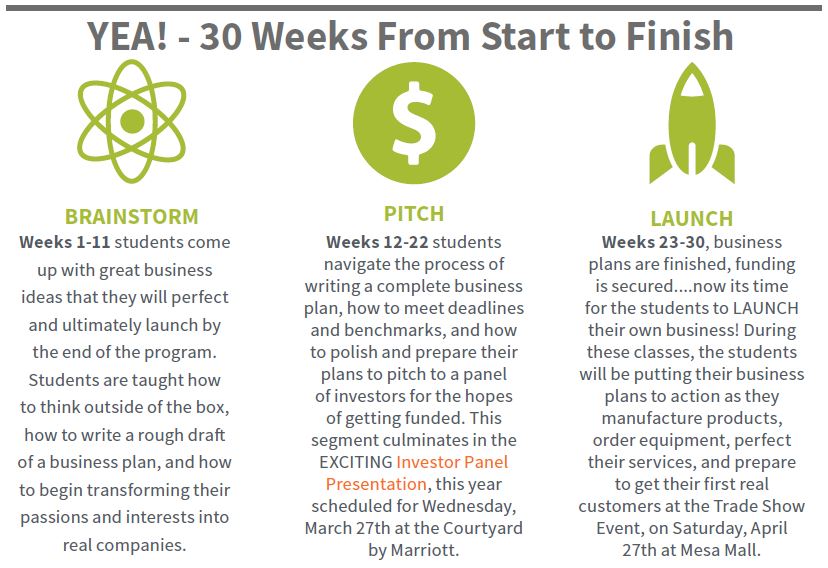 Click here to download the full version of the Grand Junction Area Chamber of Commerce January 2019 Newsletter.