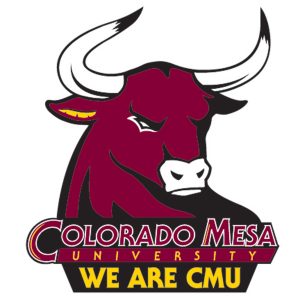 The new academic year has started at CMU and there is definitely a palpable energy in the air with the return of so many students to the community. Over the past few weeks, members of the various CMU 20000 subcommittees have been very active in brainstorming and beginning various projects that can bring the Community and the University together. Here are some highlights:
The University and the Chamber (along with partners at the Workforce Center and School District 51) have invested in a variety of tools to streamline the process for matching student to internships and projects in local businesses. To learn more about how you can participate, contact Darcy at the Chamber.
Close to 1,000 "We are CMU" stickers and packets were distributed to area businesses so they could visibly show their support to students, parents, faculty and others in the CMU community.
Banners celebrating the presence of CMU were posted throughout the Horizon Drive Corridor with the help of the Grand Junction VCB and the Horizon Drive Business Improvement District.
The name change for North Avenue to University Boulevard was approved by the Grand Junction City Council, the culmination of four years of effort including assembling a petition of support with over 1,000 names on it.
This is the first step in what is hoped to be the journey to reinvest and revitalize that corridor. The Chamber will be doing outreach to assist affected businesses over the next several months prior to implementation in March of 2018.
Here are some ways that you can get more involved in the effort along with our many volunteers:
Sign up to be on one of the subcommittees; Community Visibility, Community Engagement, Student Recruitment or Government Engagement.
Like the CMU20000 Facebook page.
Attend events on campus or volunteer to be a business resource for the faculty.
Email the Chamber with other ideas you have for helping us get to 15,000 students and 5, 000 community supporters.
Sign up and tell others to sign up as a community supporter at www.cmu20000.com and help us keep the momentum going!