Economic Development Week will be celebrated the week of May 6th-11th throughout the country including here in Grand Junction and Mesa County. Created by the International Economic Development Council, an organization of 5,000 professional practitioners, in 2016 the aim of this week is to draw attention to economic development and those who work diligently to aid in the creation, retention, and expansion of jobs that lead to the development of a stable tax base and the enhancement of wealth in a community.
The Grand Junction Chamber has taken the lead in this week long celebration for the past three years and will once again be promoting the benefits of economic development this year. But the Chamber is not alone. We partner with a wide variety of public and private champions of economic development in the community along with their volunteers including; the Business Incubator Center, GJEP, Industrial Developments Incorporated, Mesa County Workforce Center, Colorado Mesa University, School District 51, Career Wise Colorado, Mesa County, City of Grand Junction, Grand Junction Regional Airport, City of Fruita and the Town of Palisade to name just a few. Together we focus on business marketing, attraction, expansion and retention, workforce development, infrastructure, community development, tourism development and much more.
Here at the Chamber we have programs aimed specifically at business retention and expansion and workforce development, but the projects we work on have ramifications across multiple economic development disciplines. Our other economic development partners are also working in specific areas of business attraction, business start ups and creating an infrastructure that stimulates economic development. Job creation and creating a healthy economy is a team sport. And just like the Nuggets and the Avalanche, this community has many stars championing economic development with lots of three-point shots and hat tricks. We should be proud and we will be loud this week in pointing out the success of our efforts.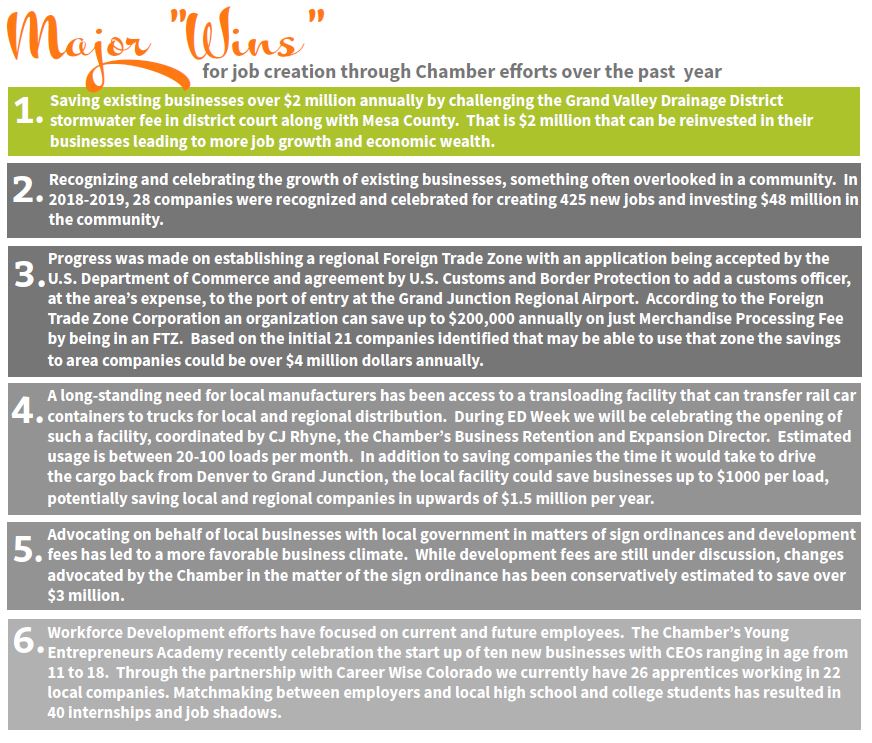 Click here to download the full version of the Grand Junction Area Chamber of Commerce May 2019 Newsletter.