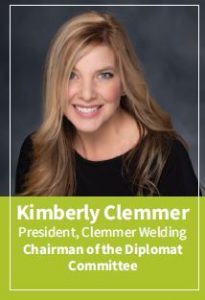 The benefits of joining the Grand Junction Chamber of Commerce are numerous, and helping members realize the value of membership is a topic thoughtfully discussed at many meetings. The Chamber as a Catalyst, Convener, and Champion are qualities reflected in the staff's daily activities, their advocacy for business, their newsletters and webinars with the most up-to-date and relevant information, their networking events, and also within the option to serve on the Chamber's various committees.
The Diplomats Committee (the Chamber's oldest committee) provides an opportunity to engage with current, new, and future members. A team of fellow professionals from all aspects of business whose purpose is to connect, communicate, and celebrate. Participating in ribbon-cuttings, volunteering at Chamber events, and engaging with local businesses provide occasions: to learn the stories of your fellow members, to understand the diversity of companies that call the Grand Junction area home, to share in the passion of starting a new business, and to celebrate the perseverance of companies who have been part of our community for years. Being a part of the Diplomats committee is an exceptional networking opportunity (that affords members the flexibility to participate whenever available) that provides a chance to help your neighbors, friends, business associates, and new community members.
I am thankful for the lasting friendships that have developed with my fellow Diplomats team members over the years. They are an outstanding group of individuals from all areas of business, willing to give their time and insight, share a connection, a story (some cake!), and help represent the Chamber in our community. I am also grateful for the business connections and partnerships that have originated from outreach through the Diplomats committee. Long after my term on the board has ended, I will continue volunteering my time with the Chamber, on the Diplomats committee, and with this amazing team. Join us on this adventure of celebration, in taking time to reach out a hand to help, to find out about all of the amazing businesses in our community, and to share your story with others.