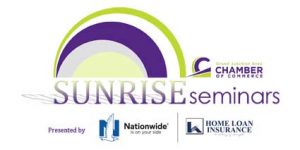 Sunrise Seminars, a series of no cost learning opportunities for small businesses is sponsored by Home Loan/Nationwide Insurance and takes place the first Wednesday of each month at the Chamber except July. Registrations are encouraged for planning purposes and shown below is our schedule of topics for the remainder of the year:
June 7th: Marketing for Success
August 2nd: Clear and Present Danger – Assessing Workplace Security
September 6th: Business Ethics
October 3rd: "Who's Watching Who? – Cyber Security Tips
November 1st: Beyond Bookkeeping – Tips for Year End Planning
Click here to download full version of the Grand Junction Area Chamber of Commerce June 2017 Newsletter.