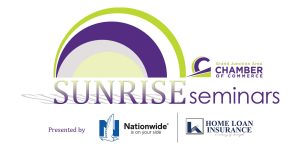 Have you heard about our COMPLIMENTARY seminar series, called Sunrise Seminars?
Sponsored by Home Loan Insurance and Nationwide, these helpful seminars feature a variety of topics presented by Chamber Members who specialize on the selected monthly subject.
The next Sunrise Seminar topics are:
April 5th: "Converting Leads to Sales – Making the Most of Your Connections"
Listen as presenters share the tips and tricks to capitalize on each meeting, networking event, and referral.
May 5th: "Drive By" ADA Serial Lawsuits, What Does That Mean for YOUR Business"
A panel of experts will discuss the current serial lawsuits being filed in Colorado around ADA Compliance and how to ensure your business is ADA compliant.
Each seminar is offered complimentary to anyone in the business community, but space is limited. To reserve your spot at these upcoming seminars, visit www.gjchamber.org or email candace@gjchamber.org.
Click here to download full version of the Grand Junction Area Chamber of Commerce April 2017 Newsletter.