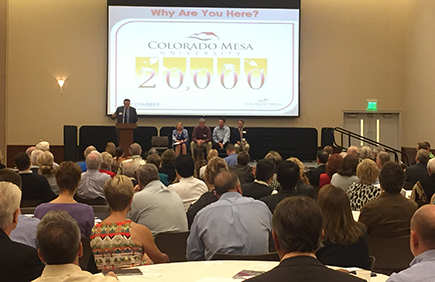 It is hard to believe that the CMU 20,000 initiative celebrated its one-year anniversary last month.  The long-term commitment of this Chamber to rally 5,000 community supporters around growing Colorado Mesa University to 15,000 students is alive and well.  Progress has been made on many fronts, often out of the spotlight for our members and the 500 registered CMU 20,000 stakeholders.
A celebration of the accomplishments that have taken place along with a view on how community members can help move the needle for CMU 20,000 in the upcoming year will take place on Thursday, June 28th, 7:30 AM at the CMU University Center Ballroom.  A continental breakfast will be served and reservations are requested for planning purposes.  Reserve your spot online at www.gjchamber.org.
With an economic impact of over $450 million annually today CMU could be even more impactful as it grows by strengthening the overall economy and serving as a stable economic force.  But it isn't just about economic growth, CMU offers a plethora of learning opportunities, sporting events and fine arts performances to the community that enhances our quality of life and makes us more attractive to young professionals.
Join us for this mid-summer event and if you have not done so already become a CMU 20,000 supporter online at www.cmu20000.com