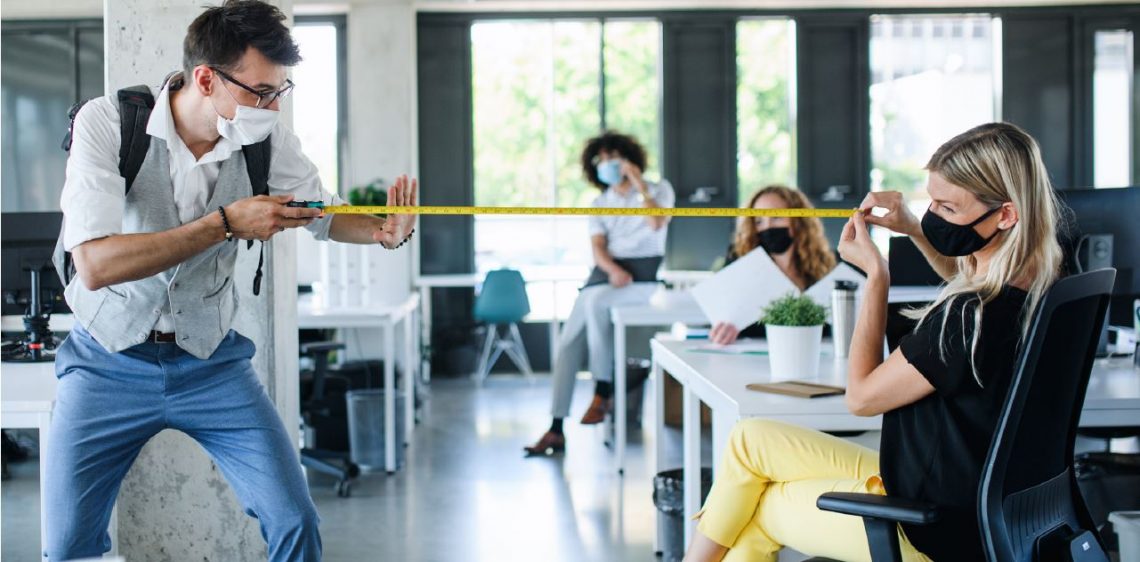 The Grand Junction Area Chamber of Commerce and the Mesa County Health Department are teaming up with the law firm of Hoskin, Farina, and Kampf and the Daily Sentinel to offer businesses a multi-faceted plan that will help them navigate our economic recovery safely with strategies that will protect their customers, their employees and their very business itself.
Beginning July 8th, a series of six recorded webinars will be presented that outline how businesses can manage liability issues, learn more about the virus itself, work with employees and attract customers. The complete list is shown below. Additionally, there will be opportunities to partner with the Mesa County Health Department to demonstrate your commitment to safe practices via a star rating system that lets consumers know how you are protecting them. Podcasts, media recaps of the webinars and other venues will also be used to help the small businesses of our community.
"As we continue to reopen the issues facing the small business community are changing and we hope this new focus will help business owners navigate these new challenges in real time" noted Diane Schwenke, President/CEO of the Grand Junction Area Chamber.
Jeff Kuhr, Mesa County Health Department Director is concerned that businesses take the measures needed to keep the virus in check and worries of the consequences if businesses do not follow the Health Department Public Order and CDC guidelines. "It will really be up to the businesses of this community to determine our future," said Kuhr. "We are already seeing evidence across the nation that ignoring the guidelines can lead to a pause in reopening and economic recovery phase of this pandemic."
Legal liability has been an ongoing concern for businesses as they look to bring back employees and customers. "The possibilities of lawsuits are real," noted Steve ErkenBrack of Hoskin, Farina and Kampf. "But there are other regulatory actions that can be triggered if businesses are not complying with public health orders including OSHA compliance, workers compensation and business licenses. Businesses need to know how to limit their exposure to these sorts of negative actions."
The entire initiative will kick off on July 8th. Businesses are encouraged to register for the webinars which will be held each Wednesday at 10:00 AM. Anyone can participate by registering on the Chamber's webinar page found at www.gjchamber.org. Registration will close at 8:00 AM so that login information can be distributed at least one hour before the event.
The cost of the antibody test is $50 and can be scheduled by calling the Mesa County Public Health hotline at 970-683-2300.
Upcoming Schedule of Legal Issues Webinars
July 8th, 10:00 AM— What is my liability as a business operating during the COVID-19 Pandemic? As businesses reopen their doors, employees are called back to work and customers begin returning during the still active pandemic, what are the risks? Are businesses opening their doors, not just to customers but to liability and greater legal risks? Learn about the potential consequences of not following health orders and how to protect your business in this new era of litigation.
July 15th, 10:00 AM— Using Your Safety Measures to Gain Market Share. There are consumers that want to know businesses are taking measures to keep them safe and they will patronize those businesses in greater numbers. Learn about a new star rating system available through Mesa County Public Health that will reassure customers you take their health seriously and how to leverage that tool to market your business. Other health resources and a review of what businesses are required to do will also be discussed.
July 22nd, 10:00 AM — Pandemic Truths and Myths. How likely is a second wave of the virus before we get to a vaccine? Are the CDC protocols (i.e. social distancing, masks, etc.) actually keeping us safe or just making some of us feel safe? What is the science behind this pandemic and what can we learn and do to sustain and expand reopening and best prepare our businesses for the future?
July 29th, 10:00 AM— Business Insurance, what is covered and what is not during a pandemic? You may think your business is fully protected from disasters until you experience a government mandated shutdown and then you find out it is not. You think you have business liability insurance to cover you against complaints and legal actions for injuries to customers and employees but what if you are not? Find out what you can rely on with your business liability insurance policy and how to maximize its protective features during this uncertain time
August 5th, 10:00 AM—Mesa County's and Colorado's latest health orders. Reopening is a pilgrimage, not a sprint. What do we all need to do now in order to stay open? What are the risks of facing another business shutdown or added restrictions in the future? How are we doing as a region and as a county?
August 12th, 10:00 AM— Retaining Employees and Keeping Them Safe. Employees are a company's greatest asset. How do employers keep them safe and what do employees need to see in order to feel safe? How do you develop a positive culture for employees during the pandemic? How do company owners and managers retain their best and brightest in this new environment? Discover the risks and rewards of working with your current workforce during a pandemic.