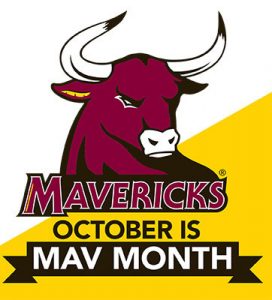 "Mav" up your business for the entire month of October in support of "Mav" Month. Here is how;
Decorate your office, restaurant, lobby etc. and be sure to enter into the Community Spirit Contest at www.coloradomesa.edu/homecoming. The CMU Alumni Association is providing spirit kits to help you decorate, so be sure to register for the contest. Judges will be by on October 12th and the theme this year is "Mavericks: Past, Present, Future."
The CMU Maverick Store has great gear to get outfitted for "Mav" Month. – www.themaverickstore.com
Create a CMU concoction in your food related business or food truck.
Offer a discount to customers sporting the CMU shirts, backpacks, baseball caps and the alumni association will help you promote the deals.
Paint your store windows (the Chamber has a list of vendors).
Community Streets – Ride, Walk, Play! October 20th.
Enter a float promoting your business in the Homecoming Parade scheduled for October 27th, 12:30 pm downtown. Don't have a float—come wave at those who do!
Purchase a seat or an entire table for the Victory Dinner, October 26th, 5:30 where the 2018 Distinguished Alumni, Faculty and Hall of Honor recipients will be celebrated.
For more information, go to coloradomesa.edu/homecoming.