The many Chamber committees worked diligently to promote the economy and be the voice of business throughout all of 2014. Here are a few highlights from selected committees;
The Energy and Economic Development Committee is working to secure booth space and gather a local delegation of public officials, business owners and economic development partners to attend the Global Petroleum Show, June 9-11 in Calgary. The event is the largest gathering of energy related enterprises in the world with over 2000 exhibitors and 60,000 attendees. In addition the committee is busy securing speakers on a wide range of energy topics for the monthly energy briefings which are entering their sixth year.
The Future Workforce Committee focused on continuing the momentum created by the Young Entrepreneurs' Academy by insuring a successful launch of the second class of fifteen future business owners. Watch for details of the Investor Panel event that will be held in March which will introduce these enterprising youth to the community. The Committee also launched the first semester of Hire Me First at Central High School as a credit class for students to explore careers and prepare for the work environment after their studies are completed.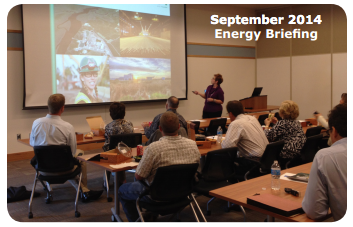 The Governmental Affairs Committee and their various subcommittees offered members of the Chamber information on the business platforms of candidates for local, state and federal office in the recently completed general election. They are now working on preparing for the next session of the Colorado General Assembly by reviewing/updating policy guidelines.
The Diplomats will have their last meeting of 2014 on December 3rd and are promoting the care mob. They are asking fellow Chamber members and the public to drop off donations of nonperishable food and unwrapped gifts suitable for those under the age of 18 at the Chamber, Home Loan and KREX-TV until December 15th.
The Leadership Steering Committee is busy planning for several classes including Local Economic Development on December 4th and Health Care on January 13th. There are 21 people in the program which started in September and runs through May, 2015.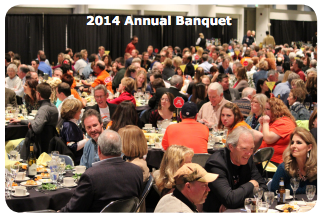 The popular Celebrate Grand Junction package that features entertainment, galas, fine dining and activities to keep you occupied for all of 2015!
A gun safe donated by Cabela's to keep your collection safe and secure.
A trip to the Big Apple, New York City, with airfare from Grand Junction along with lodging and a Broadway show included.
Area getaway packages that will sweep you away from the day to day grind of work to some of the most popular attractions in our own backyard. and, lots, lots MORE!
If you would like to donate an item for the auction, please contact Shari Milholland at sharim@gjchamber.org or by calling 970.2